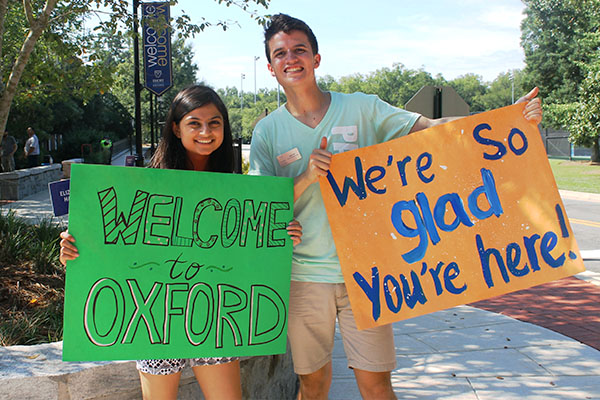 Emory University has two campuses where a first-year student can start their college experience, Oxford College and Emory College. This year, 425 students chose to start their Emory undergraduate education at Oxford College, located in Oxford, GA, 38 miles east of the Atlanta campus.
Oxford offers the distinctive advantage of a liberal arts education on a close-knit college campus with the resources of a world-class research university. With 1,067 total students, Oxford provides a community for first- and second-year students with unique leadership opportunities and close relationships with faculty.
After their sophomore year, all Oxford students move to Emory's Atlanta campus to complete their bachelor's degrees at either Emory College, Goizueta Business School, or the Nell Hodgson Woodruff School of Nursing. 

Oxford students enjoy the benefit of small class sizes, direct relationships with their faculty, community with their peers, and unique advantages of living on a small college campus. In fact, 99% of class at Oxford has fewer than 30 students enrolled in them and the average class size is 19.
Oxford College of Emory University Assistant Dean of Admission Rashmi Anand reviews some of the most common questions about one of Emory University's two entry points for undergraduate students.

What is the purpose of having two campuses?
Oxford College is where Emory began in 1836. After Emory College of Arts and Sciences became part of Emory University in Atlanta in 1919, Oxford became a division where students could begin their first two years of a four-year liberal arts education.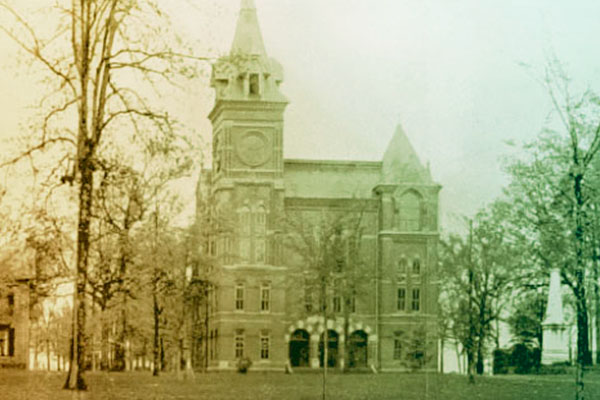 Emory University is the only major research institution in the nation where entering first-year students can choose from two distinct undergraduate experiences. Emory and Oxford offer equivalent curricula and maintain parallel academic standards, yet are very distinct in setting, size, and campus community.
Why should a student choose Oxford?
The difference lies in the kind of community you want for your first two years. There are three main distinctions from the Emory College campus which may draw students to choose the Oxford campus:
The emphasis at Oxford is on rigorous, liberal arts coursework in a close-knit setting. The strong advising system and small class sizes are attractive features for many students.

Oxford offers increased opportunities for leadership in activities that at larger schools are often led by upper-class students. With 80+ teams and student organizations, some of these activities include: honor council, student government, resident assistant (RA), supplemental instructor (SI), and research sponsorship.

Oxford is Emory University's smallest division but also its most diverse. There are more than 40 states and 15 nations represented by the student body on Oxford's campus.
So, why would I want to change locations if I already know I want either a smaller campus like Oxford or larger campus like Emory College?
Oxford provides an opportunity for students to experience two unique environments in their college career; a small liberal arts setting and the resources of a renowned research university. This combination is found nowhere else in American higher education. It allows students to have engaging classroom instruction while also having the opportunity to do cutting-edge research and experience a unique campus pathway through their college career.
Oxford is not rural, by any means. We call it a community because there is such a concentration of like-minded college students in the area. The Oxford/Covington area provides many amenities including theaters, restaurants, bowling alleys, and an annual concert series. Also, students are only 45 minutes from the Atlanta campus and the heart of Atlanta and 45 minutes from Athens, GA, another great college town. One of the best parts, is that the Emory shuttle system provides transportation between campuses every day, several times a day!
Is it easier to get into Oxford than Emory?
Nope, some students who apply to both campuses are denied at Oxford and admitted to Emory College and vice versa. The two divisions are selective with admission criteria, and the primary reason for admittance to one and not the other campus is due to a student's fit at either campus. The Admission Counselors at each campus look for students who will both contribute to and benefit from their respective campuses. You can read more about our holistic application review process by visiting our blog post. Students get independent admission decisions, so applying to one campus or both will not affect your admission decision at either.
What if I apply to both but am only admitted to Oxford College? Is Oxford a "back door" into the Atlanta campus?
Oxford College and Emory College are academically equal and both programs are looking for the most qualified students. The decision to Admit, Wait List, Refer or Deny a student depends primarily upon the student's academic credentials, including strengths of high school curriculum, classes taken, test scores, and fit for campus environment.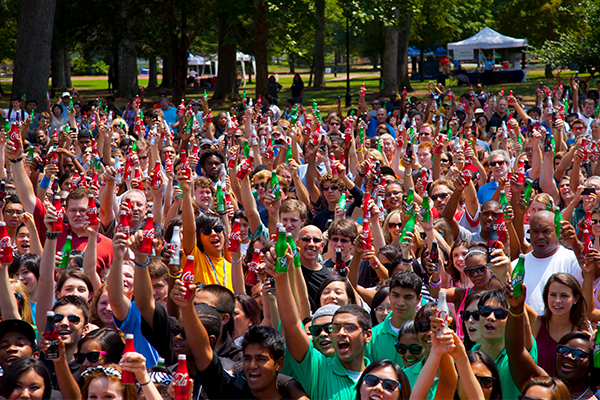 A number of other factors, which contribute to the diversity of the class and a better fit for the individual student are also considered, for example, leadership and extracurricular activities and demographic factors. Our goal is to create on each campus, classes that are part of the educational experience we provide, and to make an Emory education available to as many qualified applicants as we can accommodate.
Don't hesitate to connect with us by posting a comment to this blog, following us @emoryadmission, or emailing us at admission@emory.edu. We look forward to hearing from you!