Coca-Cola's impact on Emory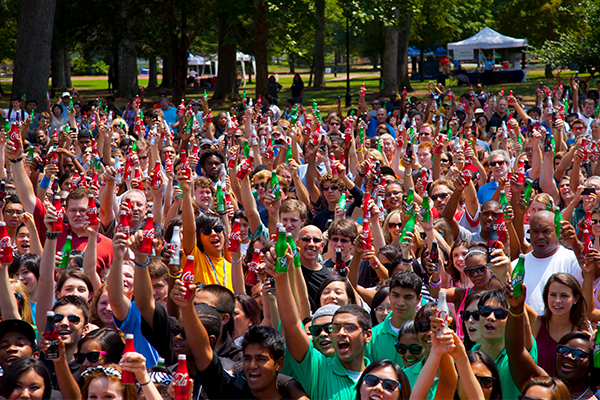 Emory University's relationship with the Coca-Cola Company is so strong that it is sometimes known as the "Coca-Cola University". But why this moniker?
In our latest blog post, we'll break down some aspects of Coca-Cola's impact on Emory University:
The Coca-Cola University
Coke Brand Ambassadors
The Coca-Cola Scholars
The Emory Quadrangle
Names Around Campus
The "Coca-Cola University"
Asa Griggs Candler, founder of The Coca-Cola Company, provided a land grant for Emory College to relocate to metropolitan Atlanta and be rechartered as Emory University in 1915. Even from Emory's early days, Coca-Cola had a substantial influence.
Later in the 20th century, the course of Emory's history changed dramatically in November 1979 when the company gifted the university Coca-Cola stock. It made a profound impact on Emory's direction in the next two decades, allowing the university to fund various programs, and in turn expand its academic and research capabilities.
Campus Ambassadors
To reach college age students, Coca-Cola regularly employs campus ambassadors to increase its presence at Emory. And who is better to reach their peers as a Coca-Cola ambassador thank Emory students themselves? Student ambassadors can create social media posts and run on-campus activities. This involves communicating with the Emory administration and Coke brand to provide events with free products.
As they represent Coca-Cola on campus, students are able to develop professional skills and leadership strategies, which will further prepare them in their chosen careers.
The Coca-Cola Scholars
Coca-Cola Scholars Program is a scholarship which is given to graduating high school seniors. This particular scholarship highlights students who have a strong focus on leadership and service as well as making an impact on their local communities.
150 Coca-Cola Scholars are selected each year to receive this $20,000 scholarship.
The Emory Quadrangle?
Is the Emory Quadrangle shaped like a Coke bottle? Given the longstanding connections between the Coca-Cola Company and Emory, the question is understandable, but the history states otherwise.
While the shape of the quad might look like a modern Coke bottle, the construction of the space and the iconic glass bottle are unlikely to have a connection, as the bottle shape of the time the quad was created was a very different design. But the impact of Coca-Cola on Emory is so great that the legend continues!
Whatever the true story is, the Emory Quadrangle is a fantastic place to relax between study sessions and enjoy an ice cold beverage.
Keep Seeing These Names Around Campus?
There are two names you'll see around Emory's campus–and there's a Coca-Cola connection with both of them.
Robert W Woodruff was an American businessman who served as the president of The Coca-Cola Company from 1923 until 1985. You'll see his name in many places on campus, including a library and a residential center. Furthermore, there is also the Robert W. Woodruff Scholars and Fellows Program which was established to support students with scholastic abilities and leadership qualities.
We've already mentioned Asa Griggs Candler, who purchased the Coca-Cola recipe from chemist John Stith Pemberton in 1888. The Candler School of Theology and its library are both named after his brother, Bishop Warren Akin Candler, who supported the creation of Emory University's Atlanta campus and went on to become the university's first chancellor.
The Takeaway
Now you've become more familiar with the history of Coca-Cola and Emory's special relationship (and perhaps now understand why people might do a double take if you drink a Pepsi on campus).
Want to learn more about Emory's history and how it came to be one of the most prominent health sciences institutions in the country? Check out more information here.