My First Semester at Oxford College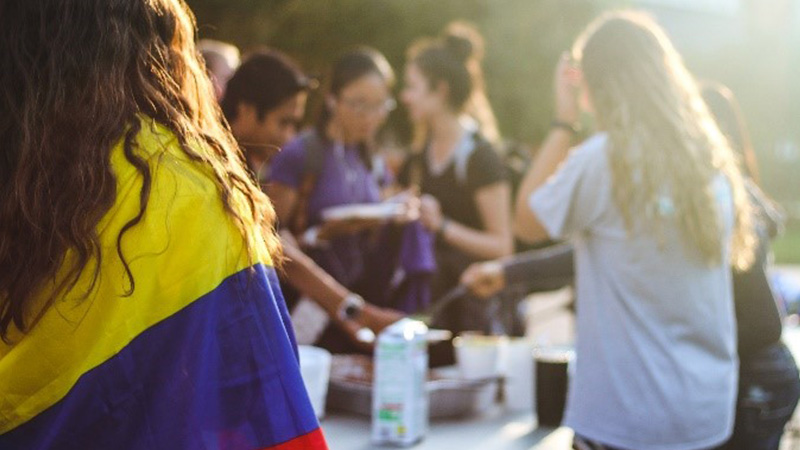 Adulting. Culture. Community. These are the important things I experienced during my first semester at Oxford. Coming from Long Island, New York, the small community at Oxford was a big change for me. Oxford made the transition a smooth one with a close-knit and diverse community.
Like everyone else when they first come to college, I was nervous about making new friends, but Oxford made that easy too. At Lil's Dining Hall, there's always someone to sit down and eat with. I've made a lot of friends just by having a meal with a random person. After I made a few friends, living away from home started to feel like a breeze, until I had to do laundry for the first time. I put my dirty clothes in the dryer instead of the washer. When I came back later, they were just stinky and warm! I realized that all the washers were on one side of the room, and all the dryers were on the other. After a couple weeks, I got used to doing things like washing my clothes, making appointments, and taking care of myself when I'm sick. Adulting isn't so hard once you get used to it.
One of the things I love most about Oxford is the diversity you find on campus. The student-led clubs and organizations have so many fun events, that sometimes I have to choose between events to attend. In just one week, I tried Turkish coffee, learned a traditional Indian dance, and attended a poetry slam.
At Oxford, there's a club for everyone and plenty of opportunities to collaborate. Since I'm into photography, I've taken pictures for other clubs and have also done photoshoots just for fun! At Oxford, it's so easy to collaborate with new people to do the things you love. If you want to try new things outside of your comfort zone, then Oxford is the place for you. I was a little nervous at first, but my experience here has been so positive. I've met so many different people here, but I found a great family with the Cross-Country Team. I am looking forward to continuing to experience different perspectives with my new community here at Oxford.

Elizar Alden Aspiras 19OX
Syosset, NY
Biology
Don't hesitate to connect with us by posting a comment to this blog, tweeting us @emoryadmission, or emailing us at admission@emory.edu. We look forward to hearing from you!