This is the first of a three-part series. Read part 2 here, and part 3 here.
You hear all about the high school to college transition in the months leading up to graduation, but how do you learn about the transition from Oxford College to Emory College—a transition unique to Emory University? Well, you can start here. I'll detail every aspect of my personal experience with this intra-collegiate move to hopefully give you more insight before you choose your college home.
When I came to Emory, I was (and still am) the only student from my high school to enroll. Pair that with the fact that this mid-undergraduate move is specific to the Emory/Oxford experience, and I was searching for resources that would provide a candid perspective about the two campuses. After having completed two years at Oxford and one semester at Emory, I'm ready to act as that resource for you.
We'll start with the good.
While moving onto the Atlanta campus can feel like moving into college all over again, I didn't feel like the nervous first-year I was coming onto the Oxford campus. For me, the most intimidating part of starting at a new school is the fact that I don't know anyone. When you continue onto the Atlanta campus from the Oxford campus, you already have the friends you've made during your first two years. While there was always more people to meet and friends to make, you go into your two years in Atlanta already having found your people from Oxford.
That being said, the Atlanta campus is a new place and while I'll talk more about the down side of that in the next post, there is an upside as well. Moving campuses midway through college is like getting a fresh start! Seeing new buildings, walking new sidewalks, and admiring new trees—it all gives you a renewed sense of enthusiasm for learning. We're all familiar with that new semester, new school year feeling, right? Well this feels really similar, but amplified.
Beyond the social part, coming from Oxford benefited me academically. Oxford is a small, specialized academic environment, and I spent my first two undergraduate years learning how to stand out in a classroom. I could shed my inhibitions about speaking up in class or approaching a professor. These skills have made it much easier to acclimate myself to the environment in Atlanta.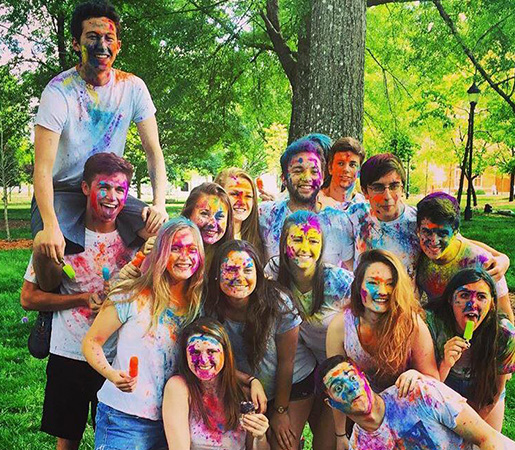 Oxford has taught me a lot during my time there. It is an intense place to learn, with small class sizes, competitive classroom environments, and intense study regiments. There's no flying under the radar in a twelve-person, reading heavy psychology class where the professor knows you by name. While some people may consider this a drawback, I would say it prepares you well for your time in Atlanta.
With equal academic rigor but a less demanding classroom environment, Emory College has proven to be a lot less stressful for me. Oxford has conditioned me to approach education with an Oxfordian mindset and work ethic. When situated in an Emory classroom where the environment isn't quite as strenuous, I'm more relaxed and can reap the benefits from my first two years of hard work at Oxford.
Speaking of reaping the benefits, the Atlanta campus is based in—you guessed it—Atlanta. While Oxford College's surrounding area tends to be on the quiet side, Atlanta is booming with activity. There are restaurants, museums, concert venues, and so much more. Even better, you're only in Atlanta for two years when you come from Oxford, so you don't get burnt out on the experience.
There are tons of upsides to getting to complete the transition from the Oxford campus to the Atlanta campus; you get to experience more in your four years at Emory than most college students do across the country. My time at Oxford College is something I will appreciate for years to come, but it's not all roses and sunshine. As with anything in life, there are both ups and downs involved with the transition between campuses. Next, let's look at the downsides.

Jessy DeFrancisco 17OX 19C
Lake Wylie, SC
Media Studies and Creative Writing
Don't hesitate to connect with us by posting a comment to this blog, tweeting us @emoryadmission, or emailing us at admission@emory.edu. We look forward to hearing from you!