Inside the Emory University Scholars Program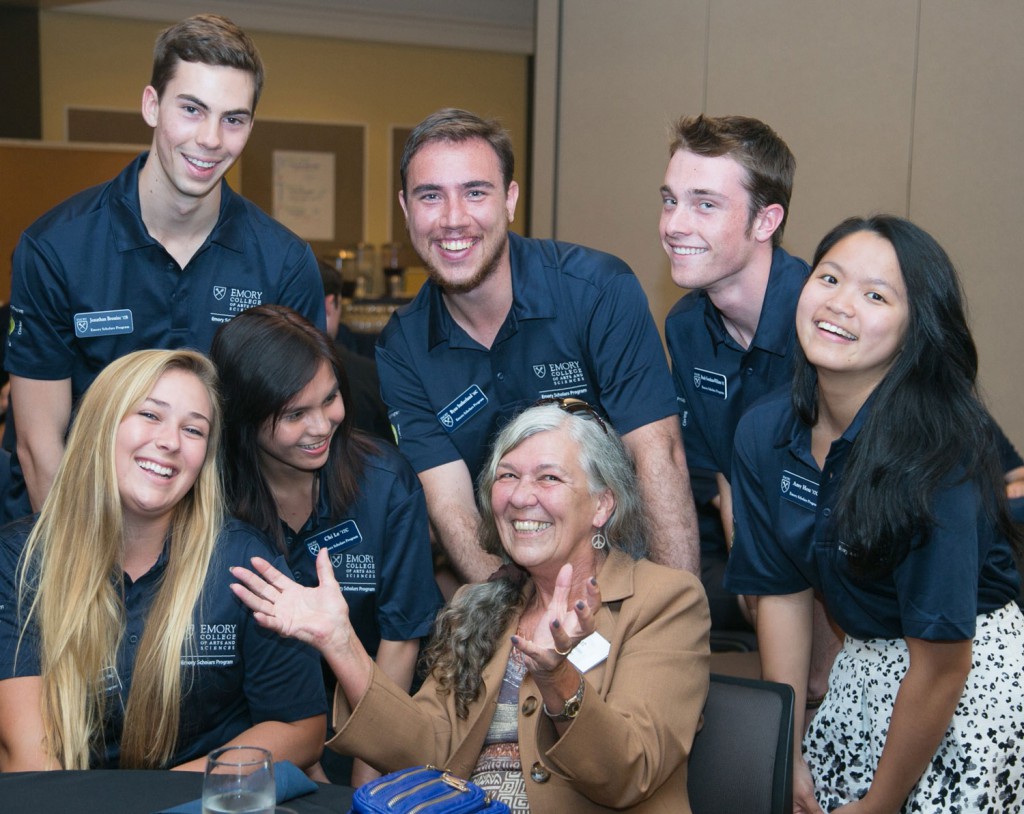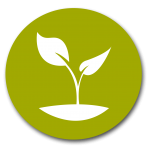 This year we've had over 7,000 applicants to the scholars program, our largest scholar applicant pool yet! Applications continue to be dynamic and inspirational. The applicants have been highly competitive and uniquely accomplished, representing some of the top students in the world.
Right now the Scholar Committees, consisting of admission staff, scholar program staff, and faculty from a wide range of departments, are in the thick of reading applications and meeting together to discuss top candidates for each of the selective scholar programs. (Read more about the three scholar programs on our blog.) During this busy season of reading, we are excited about the remarkable students we are "meeting" and hopeful for the Scholar Finalists we will notify in early February.
We wanted to introduce you to a few students who were in your position just a few years ago—students who applied to the scholars program and rose to the top in a select group of Scholar Finalists. The biography of each of these students has been written by the admission counselor who read the student's application during the Scholar Committee process. We've shared a bit about what made each student stand out, not only through their high school achievements, but also in their personal qualities and their life's perspective and tenor. You can also learn a bit about what these students are accomplishing on each campus now as Scholars.
Stay tuned in the coming weeks for details on the Scholar Finalist notification process. We will be updating the blog with everything you need to know.
An Appetite for Knowledge and Problem Solving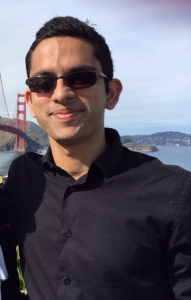 Mehul Bhagat 18C*
Economics and Creative Writing
Suwanee, GA
Mehul Bhagat is the epitome of a Woodruff Scholar. I distinctly remember reading his application.
It was one of those days reading file after file of really good students, many of which had similar academic interests and involvement in their communities. However, when I clicked Mehul's application, it was one surprise after another. He had maxed out his curriculum in all subject areas at his large public high school. He was the Editor in Chief of his school's multimedia magazine, led his school's Jazz ensemble as a soloist, and even directed jazz combos. For most students, this type of academic and leadership would take quite a bit of time and energy, but for Mehul it was just the beginning.
An avid musician Mehul reached All-State for his Alto Saxophone skills, was in the Atlanta Youth Wind Symphony as a Section Leader who was thought of so highly that he managed personnel and set musical standards. He was also in the prestigious Rialto Youth Jazz Orchestra where he was lead Baritone Saxophonist. He also happened to be writer who had published his poems internationally and had been invited to attend two of the most coveted journalism and writing studios in the country.
He was so inspired by his experiences at these events that when he realized there was a shortage of middle school students interested in writing, he founded a nonprofit organization to deliver free creative writing seminars to aspiring middle school writers and even got big time authors to join the fun!
In the letters of recommendations from Mehul's teachers, he was described as a humanist with an insatiable appetite for knowledge and problem solving. Hence, I wasn't surprised to see that he had been selected as one of the youngest members of the Model Atlanta Regional Commission where he ultimately became a committee leader focused on improving regional transportation issues.
On top of these very notable achievements, Mehul's essay – which mentioned NOTHING of his accomplishments – had such a generous and insightful spirit to them. We had to meet this young man in person and selected him as one of the Emory College Scholar finalists invited to attend the Scholars Campus Visit. In person, he was even more personable and energizing than his application shared.
Now a second year at Emory, Mehul has led a team that was a finalist in the Hult Prize which rewards entrepreneurs from around the world who innovate and revolutionize society's treatment of the poor. The team developed nutritional spice blends as the basis for a sustainable and scalable social enterprise to help young children who live in slums. Within five years, they project reaching 14.4 million children in India, Indonesia, and Mexico. He went after this competition prize as a freshman!
The thing about Mehul (and Woodruff Scholars generally) is that he never waits for opportunities to come to him. He is constantly searching, creating, taking risks, aware of his surroundings, thirsty to learn more and above all he never takes anything for granted. When I think of Mehul I can't help but think of the famous Mahatma Gandi quote; "A sign of a good leader is not how many followers you have, but how many leaders you create." Mehul has already created many leaders in our community just by living his story with meaning and purpose.
Giselle F. Martin
Associate Dean of Admission
The Renaissance Man

Luke Arnce 17OX 19C
Biology
Joplin, Missouri
Luke came across in my initial read as a Renaissance man. He had established research interests in engineering after designing and building head lamps powered by body heat, all the while maintaining a variety of other interests as well as a strong academic record. These included biological research, orchestra and marching band, theater, creative writing, and soccer.
Beyond his well-rounded resume and exceptional grades and test scores, I was most impressed by his deeper commitment to using his intelligence and natural leadership ability to develop new knowledge. When he was no longer able to attend high school soccer practice due to a broken collar bone, Luke decided to find a meaningful way to spend his extra time. He reached out to chemistry and biology professors at a local university and asked if they needed help in their labs. This showed me he enjoys ambitiously putting his intellect to use and doesn't feel good wasting time when there are "problems to be solved" in the world.
Since arriving on campus, Luke has found a number of activities to fuel his passions. He is currently involved in Pierce Service Corps, Student Admission Association, ChemOx club, and serves on the executive board of the MED Club (a club for students interested in pre-med). He will also begin conducting research with Dr. Gilbert Ross from the Winship Cancer Institute on cancer metastasis in the near future.
Olivia Wise
Admission Advisor
A Leader on Campus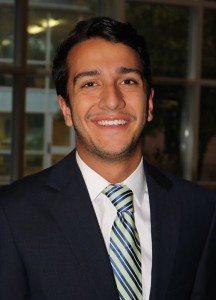 Mustafa Hassoun 17OX 19C
Political Science
Huntsville, Alabama
When I first began reading Mustafa's admission application, I saw many typical traits from many scholar applicants: rigorous, college preparatory high school with a transcript full of AP classes, a strong GPA, impressive test scores, and a variety of extracurricular activities, including several leadership positions. As I dug further into his accomplishements, I noticed that he had been selected for as a speaker for several presitigious events including TEDxYouth and Youth Leadership Council. He had also won an award for Best Position Paper at Model UN. Along with these accomplishments, his personal essays were incredibly engaging and showcased his passion for civic engagement, awareness of social issues, and a drive to create positive change permeated his application.
Just as he had been throughout his high school career, I knew Mustafa would be a leader on campus. But more importantly than that, I knew he would use the knowledge and skills he developed at Emory to pursue his passions on a global scale.
True to form, Mustafa is now on the executive boards of the Democrat Club and the Academic Committee for the Student Government Association, a member of the Pre-Law Society, and has worked with the board of Model UN. He was recently accepted into the Pierce Leadership Certificate program and hired as a Writing Center tutor as well. As a sophomore at Oxford College, Mustafa has also jumped into a number of activities at Emory College in Atlanta. He is a member of the American Mock World Health Organization and won Best Delegate at the national conference last semester. He was also chosen as one of two Oxford representatives for the Global Health Institute Student Advisory Committee.
Louisa Pinto
Admission Advisor
*Emory University uses these abbreviations to designate graduation year. For example, Mehul will graduate in 2018 from Emory College (C) with his bachelor's degree.
Don't hesitate to connect with us by posting a comment to this blog, tweeting us @emoryadmission, or emailing us at admission@emory.edu. We look forward to hearing from you!
Note that Scholar Program invitations and any associated merit scholarships are subject to change from year to year. Please visit our website for the most up-to-date information and to learn more about scholar program opportunities.