Amy Hou: Emory University Scholar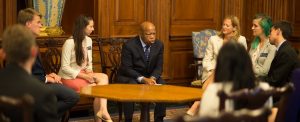 Amy Hou, from Seattle, Washington, is a senior at Emory College double-majoring in economics and environmental sciences. Her first two years were spent at Oxford College, an Emory University campus focused on small class sizes and early leadership opportunities. She's currently involved in Emory Sustainability, serves in the Student Government Association and Student Alumni Board, works in the undergraduate admission office and also as a tour guide for the Emory WaterHub.
This post is part of a series highlighting the Emory University Scholar Programs, the Scholars application deadline (November 15, 2016), and Emory University's affordability. Also check out a story from Noam Kantor, another current Scholar, learn about the Scholar Programs' legacy, read through answers to Financial Aid FAQs, and get step-by-step instructions on how to apply for Scholars with the Common or Coalition Applications.
From Amy Hou:
What have you been able to impact because of the Scholar Program?
Thus far, the connections of the Scholar Program have given me an easily-accessible method of spreading the impact of my campus involvements. I am a tour guide for the Emory WaterHub, an award-winning water reclamation facility on campus that is the first of its kind in the nation. The Scholars Program allowed me to offer a tour for all Scholars and show off the WaterHub to some of Emory's campus life and academic thought leaders.
I am also in charge of planning Emory's second annual Sustainability Case Competition, bringing together students from across disciplines of study and universities in Georgia to create innovative solutions to sustainability issues, and I will be recruiting heavily from the Scholar Program to be on Emory's team (and hopefully win!).
On a deeper level, the impact of this program, I believe, is something I won't fully understand for years to come. Just last month I embarked on a Scholar-led trip to Washington, D.C., where 12 of us met Emory alumni working in D.C., White House staff members, and prominent Congressmen, not the least of which included civil rights activist Congressman John Lewis. Meeting John Lewis and listening to him share about his work spearheading the opening of the new Smithsonian African American History and Culture Museum, leading a sit-in on the House floor to protest the inaction of Congress on controlling gun violence, and the parallels between the Civil Rights Movement of the 60's and the Civil Rights Movement today, moved me to tears.
It had become so easy to stay mired in the superficial stresses of daily life and ignore what was happening out in my city, in my country, and in the world. Meeting John Lewis made it clear that the civil rights violations happening right now are going to go down in history just as they did in the 60's, because there is still so much work left to be done. I was profoundly impacted by that trip to D.C., and the compulsion I feel to get active in the world around me and stop standing idly by will have an impact on my community and myself for years to come.
How has the Scholar Program impacted you as a student?
I think the most profound impact the Scholar Program has had is changing the quality of my conversations with the people around me. I've found that throughout my four years, while my friendships have evolved and changed, it is always with fellow Scholars that I have the most intriguing, thought-provoking interactions. For instance, one day I got into an Uber with two other Scholars, and a story about cultural appropriation was playing on NPR. It sparked a spontaneous, in-depth discussion of what each of us thought of cultural appropriation, how we tried to toe the line between appreciation and appropriation, and when political correctness seemed to be taken too far.
While it goes without saying that the Emory student body as a whole is diverse and highly intelligent, it is within the Scholar community that I have found the highest caliber of conversation and the most enjoyable challenges to my perspectives on life. Both in and out of the classroom, being a part of the Scholar community has inspired me to be constantly inquisitive and to seek more opinions, more ideas, and more challenges.
How has the Scholar Program allowed you to take risks or try the unexpected in ways that you wouldn't have otherwise had?
The greatest risk I have taken in college has been declaring my Environmental Sciences major, and that was a decision that I likely would not have made if not for the Scholar Program. I'll be honest to the point of being uncouth and say that a full tuition scholarship is no small influence on my life. Earning this scholarship allowed me to pay my own way through college rather than relying on my family for tuition money.
Near the end of my sophomore year, I was poised on the edge of a blade. On one side was the allure of the Goizueta Business School and an academic program that would provide immense support for finding a job after college. On the other was the department of Environmental Sciences, the allure of pursuing my passions and studying something I truly cared about, even if it might've made me (in the eyes of my family) less employable.
If not for my scholarship and the support of the community I had in the Scholar Program, I most likely would have caved to my family's pressure and chosen to major in business, subsequently foregoing any authentic interest in what I was studying. Although the business program offers some incredible opportunities and curriculum, it wasn't right for me.
My scholarship gave me the independence and the courage to take the risk of choosing Environmental Sciences, to put my passions first, take true pleasure in my learning, and let that excitement shine through to make me employable for the right career. And it was the best decision I've made at Emory!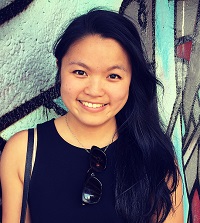 Amy Hou, Class of 2017
Seattle, Washington
Economics and Environmental Sciences
Don't hesitate to connect with us by posting a comment to this blog, tweeting us @emoryadmission, or emailing us at admission@emory.edu. We look forward to hearing from you!
Note that Scholar Program invitations and any associated merit scholarships are subject to change from year to year. Please visit our website for the most up-to-date information and to learn more about scholar program opportunities.
Save