Emory senior Chelsea Jackson chosen as 2018 Rhodes Scholar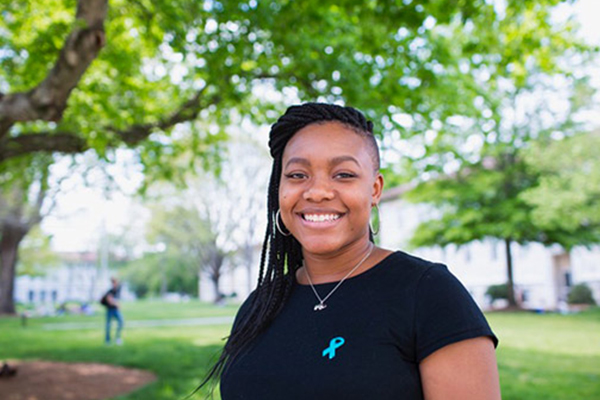 Emory University senior Chelsea Jackson is one of 32 American college students selected as a 2018 Rhodes Scholar.
Jackson, a political science and African American Studies double major in Emory College of Arts and Sciences, is the university's 20th student to be selected for the prestigious scholarship that provides all expenses for two or three years of study at the University of Oxford in England. She also is the fourth woman and first African American student from Emory College to receive the scholarship.
"I am immediately blessed to be selected," says Jackson, who is from Lithonia, Georgia. "Just the resources available and the opportunity to live outside the U.S. and interact and learn from scholars throughout the world is immense."
Jackson has focused her undergraduate research and her community leadership on efforts to create a more equitable campus and Atlanta community.
"Chelsea Jackson is a passionate and committed student who uses her intellectual talents and commitment to social justice to better our world," says Emory University President Claire E. Sterk. "She will be a wonderful ambassador for the United States and Emory as she continues her work at Oxford University."
Jackson has been heavily involved with the Emory chapter of the NAACP and co-founded the Atlanta Black Students United (ATLBSU), a group with black student representatives from every school in metro Atlanta. The ATLBSU remains a support system for students and resource for allies.
Last year, she shifted from working as the group's media representative to putting additional energy into her academic commitments.
She presented a conference paper last year with her adviser, Andra Gillespie, associate professor of political science and director of Emory's James Weldon Johnson Institute for the Study of Race and Difference, that looked at how different backstories affected public opinion on police shootings. She was also named Emory's first Truman Scholar since 2011.
"Chelsea truly embodies the ideals of liberal arts and sciences education. Her pursuit of knowledge and inquiry informs her activism and her dedication to making our society a more just one for all," says Michael A. Elliott, dean of Emory College of Arts and Sciences and Charles Howard Candler Professor of English. "We are extremely proud of her, and I am looking forward to watching her career unfold as she leaves our campus to have an impact on the world beyond it."
This story originally appeared in the Emory Report Nov. 18, 2017.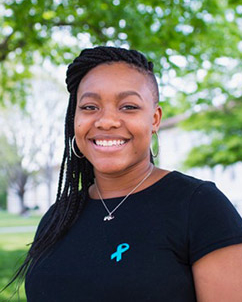 Chelsea Jackson, 18C 18G
Lithonia, GA
Political science and African American studies
Don't hesitate to connect with us by posting a comment to this blog, tweeting us @emoryadmission, or emailing us at admission@emory.edu. We look forward to hearing from you!