Strong Personal Statements: Write About what Interests You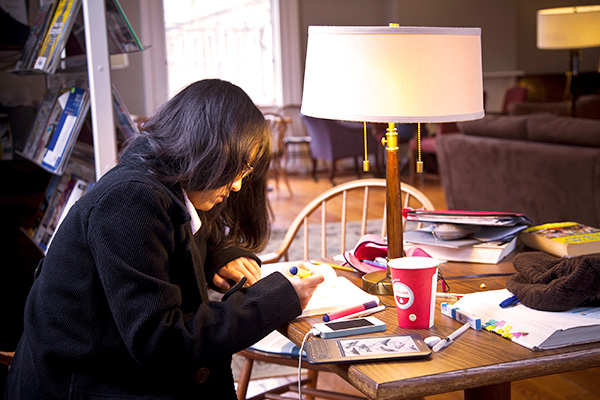 We're sharing exceptional personal statements from last year's applicants to illustrate that a good personal statement can be on a variety of topics, but ultimately, showcases the student's character, curiosity, and voice. These statements, written by students now enrolled at Emory University, were selected for a multitude of reasons, and we asked our admission staff to share what made each statement stand out.
This is Part 3 of a 6-part series on application writing; read Part 1 here, Part 2 here, Part 4 here, Part 5 here, and Part 6 here.
Some students have a background, identity, interest, or talent so meaningful they believe their application would be incomplete without it. If this sounds like you, please share your story.
I found solace in poetry. Well, poetry recitation more precisely. Unconsciously, I have straddled a divide my whole life. My parents are immigrants, and when I started school, my parents and my peers made me aware of my differences. Unlike some of my peers, I had to act a certain way or prove I was capable of accomplishment to achieve greater opportunities. Naturally, I acclimated to my environment: I made friends with the white kids who hardly got in trouble, even though I looked different; I read and spoke exclusively English, even though Spanish came more naturally; at playtime, I would always make-believe that I married the princess, even though I would have liked just as much to have married a prince. I mastered the art of code-switching. In my mind, my vitality and my capacity to succeed in Not-Quite-Rural-But-Still-Agricultural Georgia hinged upon my presentation of palatability to my peers. Even still, I constantly obsess over my peers' perceptions of me. Do I come off as too arrogant? Too overly-intellectual? Too "colorful"? Too silly and groundless? I work tirelessly to adjust for these possibilities.
Early on, I gravitated toward poetry as a medium for expression. Each day, I adjusted myself more and more to fit the expectations which infused my small southern town. In public, though outwardly approachable, I critically analyzed each move I made and word I spoke. In the literary arts, however, I could see things the way others saw them and identify myself with language that spoke directly to my experiences. In school, I was careful to never appear too Hispanic for fear of succumbing to a stereotype of being under-educated or uninformed; at home, never too flamboyant, lest my parents become suspicious that something is awry; always, never too outside-the-norm. In poetry though, I could become Oscar Wilde and Maya Angelou, taking on their plights and their triumphs. I could escape into Neruda's wistfulness or Hughes' sentimentality. I could, for a brief period, remove myself from my own reality, rife with incessant existential questioning, and place myself in another, divining from the diction and structure a sort of psychoanalysis to be applied to my conscientious understanding of human interaction.
When I was first assigned a poetry recitation in American Literature, I didn't realize it would change my outlook forever. Eagerly, I seized the opportunity to express myself openly through poetry. Having shied away from theatre for fear of being categorized or negatively conceived, I readily accepted the challenge to explore my emotional and performative range. The recitation competition called Poetry Out Loud asks students to memorize poems and recite them in such a way which reveals their deeper meanings. I felt ready. I got to the regional-level competition during sophomore year, and my elation and excitement about the mere existence of this program resulted in my pursuant interest. At last, I found a medium, a wide-reaching community of support through which I might finally come to understand the purposes and effects of my struggles. Poetry allowed me to truly observe the wires in which we entangle ourselves and cemented the idea that I had for so long ignored: everyone shares struggles, be they large or small, and life is a quest to overcome them.
With junior year came the guidance of incredible and supportive mentors that led me to that stage in Washington, D.C. where I won third place nationally in the Poetry Out Loud recitation competition. I had never felt so accomplished and bursting with resolution. To myself, even if to no one else, I proclaimed resolutely that I am Latino, I am bisexual, I am unafraid, and I am intellectually charged with finding how best to help others who have faced doubts similar to those I had. Surrounded by the diversity and fiery passion of fellow solace-seekers, I began to undo the ties in which I'd confined myself.
Feedback from Admission Staff
As we read applications, each student has a team of admission staff assigned to their file to review it and assess the student's potential. The staff responsible for this student's file had this to say about the personal statement:
One of the biggest challenges in choosing an essay topic is deciding the difference between what you what to share and what you want the readers to know about you. In my over 15 years of reading college essays most of them just share information that has been presented in other parts of the application. This applicant does an excellent job of sharing not only their growing love for poetry, but also helps us understanding the many nuances of the world in which they exist. Through this essay, especially in the first paragraph we gain insight into their struggle with cultural and personal identity while trying to fit in with their peers. By opening about these very personal experiences the student transforms words on paper to a very human experience that allows readers to connect and gain insight to who they are. These personal connections allow us as readers to move beyond the numbers to better understand how this student will engage in the classroom, perspective they will bring to campus, and the type of community member they will be.
In addition to sharing personal experiences and allowing readers to connect the reader also does a very good job of utilizing their natural voice. Too many times students feel the need to add big words and over utilize a thesaurus as opposed to just using language they use daily. Your intelligence is going to show through your transcript and your recommendations, so there is no need to use any language beyond what you do in your daily life. What makes this an excellent essay is it is authentic, shows a certain amount of vulnerability, and highlights a budding academic interest. Most of all I leave with the feeling that this essay was not written for an admission counselor of committee, but rather a form of self-expression highlighting their personal journey as a young adult. The goal of your personal essay should be to transform yourself from just an applicant to a student we want on our campus for the many unique qualities you will bring both inside and outside of the classroom.
Don't hesitate to connect with us by posting a comment to this blog, tweeting us @emoryadmission, or emailing us at admission@emory.edu. We look forward to hearing from you!