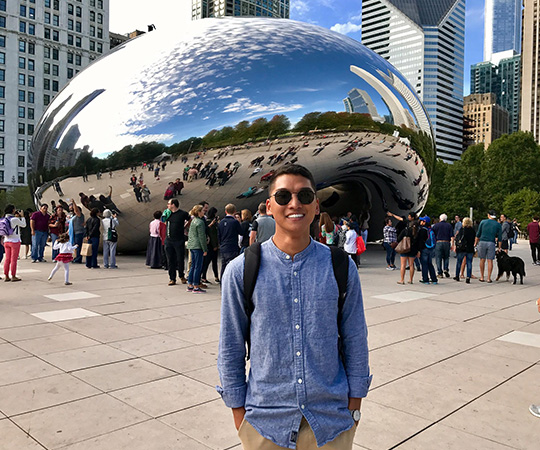 Why did you choose Emory (what was the biggest attraction)?
For me, Emory University's biggest attraction was its student-to-faculty ratio. Having attended small primary and secondary schools in the U.K., I learn best in an intimate class setting rather than in a large lecture hall. Although I have taken some larger classes at Emory, I have developed many personal relationships with my professors. I also consider the size of Emory's student body important, because it's large enough for me to meet new faces daily, but small enough for me to bump into friends on the way to class. I think Emory's strengths lie in its various academic offerings. It's important that I have the freedom to explore different subjects, and that I have time to figure out which degree I want to pursue.
Why is your major the perfect fit for you?
Human Health is a great major because it offers a diverse range of courses, and represents the multidisciplinary nature of the field. I take Human Health classes that are cross-listed with the religion department and the nursing school, and I also receive elective credits for the clinical research I do on campus. The Health Innovation concentration offers students the opportunity to take Goizueta Business School classes. This means I can take basic business classes without committing to the full BBA degree.
The Spanish major fits my academic interests well. I initially started taking Spanish classes to maintain my competency in the language, but I soon realized the department offers so many amazing classes. For example, there are upper-level seminars on colonial studies and contemporary poetry. There are also classes about the different ways Spanish is spoken in linguistics and business. With the combination of a Human Health and Spanish language education, I will be well-equipped for a career in the field of public health.
What professor has influenced you the most?
In the Fall 2017 semester, I took a Spanish poetry class with the visiting Spanish professor Fernando Valverde who has an extensive, multicultural network of Spanish language poets. Professor Valverde hosted a lecture series featuring nine different poets who presented on different topics throughout the semester. I was introduced to poetry of different styles, cultures, and contexts, all unified by the Spanish language. The lecture series gave me multiple lenses to explore while I wrote and compiled sonnets into a book for my final project.  Professor Valverde's class gave me a platform to develop artistic expression through the Spanish language, and to share my work with my peers while also learning from them.
What are your extracurricular activities (both on and off campus), and tell us a little about them?
I am a Flourish! Advisor (FA) in Harris Hall, which involves working with Harris's Residence Life team to create a flourishing environment for residence hall tenants. Along with the other members of my team, I plan events with faculty to promote healthy living through a newsletter we create monthly.  We also contribute to the Residence Life support system that assists first and second-year Harris community residents in adjusting to college life.
I am also the Outreach Chair for Emory Bike Social which hosts monthly bike rides to local neighborhoods. The Emory Bike Social is funded by the Emory Office of Sustainability Initiatives, and we promote bicycle education for Emory students, and expose them to Atlanta's vibrant biking scene. We also run Emory's own weekly bicycle cooperative.
Lastly, I am conducting an independent clinical research project at the Immunology division of the School of Medicine. I am detecting specific idiotypes of an antibody that is prevalent in lupus and certain allergy patients.
What invaluable piece of advice would you give incoming freshman?
Be open to taking classes outside your interests! You don't have to be certain which major to choose when coming into Emory. You'll be exposed to fields that you may find a passion for. The first-year seminar requirements give you room to explore subjects, and then the Add/Drop/Swap period gives you time to finalize which classes you'll take each semester. Also, try to explore the various clubs/organizations on campus! After all, freshman year is the best time to experience all the options available to you. You can then spend your sophomore year refining your academic and extra-curricular concentrations.

Jin Young Choi 20C
Daejeon, Korea / Crawley, England
Human Health and Spanish
Don't hesitate to connect with us by posting a comment to this blog, tweeting us @emoryadmission, or emailing us at admission@emory.edu. We look forward to hearing from you!