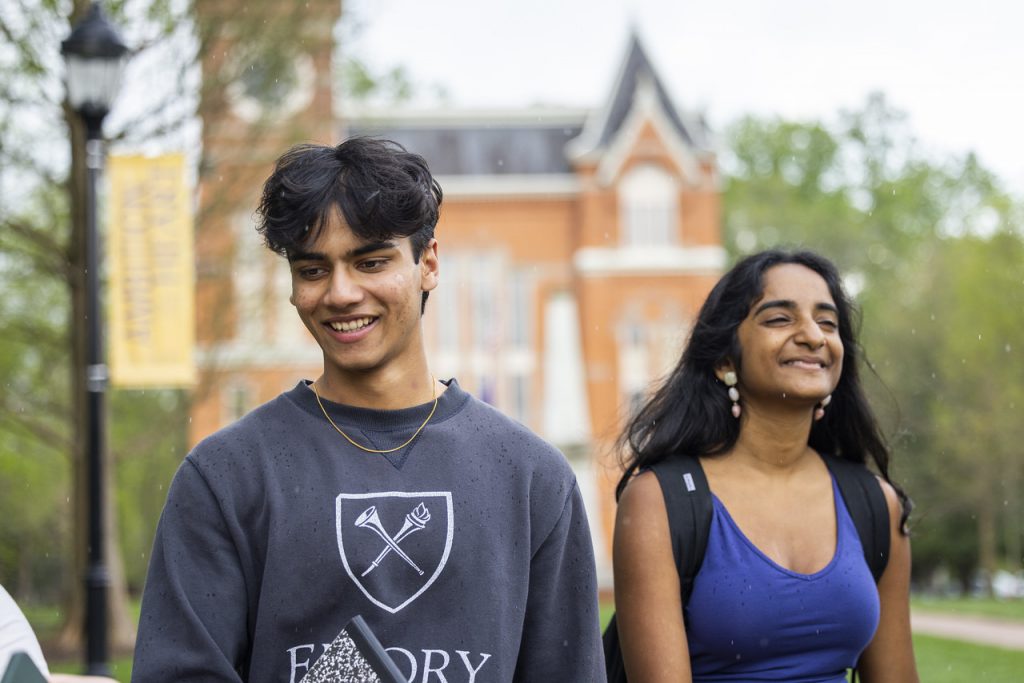 When you're deciding on where to go to college, it might be difficult to figure out how universities differ from each other in meaningful ways. (And no, not all colleges are the same!) It might also be hard to envision yourself in certain environments–how will you know the right school when you see it?
In this blog post, we're going to discuss five elements that set Emory University apart from other schools.
A Research Institution
All of Emory's undergraduates gain a firm foundation in the liberal arts, preparing them to be critical thinkers geared toward leadership and problem-solving.
With that foundation, students are then enabled to delve deeper into their areas of study, guided by their professors. Our faculty aren't just impactful professors, they are also some of the most highly-regarded voices in their chosen fields, actively engaging in research while also instructing courses.
A Tradition of Giving Back
Thinkers think and doers do–and Emory students tend to be both! Emory University is proud to carry a longstanding tradition of volunteering and giving back. We're not only dedicated to the discovery and dissemination of knowledge, we're committed to a wide variety of initiatives, including healthcare, the environment and social justice.
At Volunteer Emory, you can get opportunities to serve the surrounding communities in the Metro Atlanta area–and beyond.
Location
Emory University has the city of Atlanta just steps away from its campuses. Atlanta's identity is so diverse that it allows for everyone to find something they love about it. It is a place where you can experience incredible culture, art and food–all in one day. It's also a city that holds a strong tradition of activism, history and civil rights.
There's nowhere quite like Atlanta. It provides a world of opportunity, professional connections and fun activities that you can only find here!
Our Community
Emory's student body, faculty and administration are focused on making a difference. Whether that means volunteering with Volunteer Emory, trailblazing innovative research, or connecting with like minded individuals, folks here are committed to changing the world for the better.
Beyond the classroom, Emory is where you can find your niche through extracurricular activities, student organizations and clubs. But no matter where you are, you'll find a diverse intellectual community focused on the greater good.
Options
At Emory University, you have options. For instance, you can spend the first two years of your undergraduate career at Oxford College for an intimate, suburban liberal arts experience that focuses on applied learning.
You also have over 80 degree programs to choose from when you decide upon your major. So if your academic journey evolves while you're here, you can be free to choose where you want to go and what you want to do.
Come Visit!
Ready to check out Emory University to experience its unique identity? You can visit in-person or virtually through guided or self-guided tours.
Visiting Emory is a fantastic way to get to know all that Emory has to offer. Visiting will also help you envision yourself as a student here. You will get the opportunity to explore all of the major features of our campuses, including residence halls, dining halls, classrooms, and more.
To find out how, go to our Admission page here.