Student Spotlight: Meet Josh Kaplan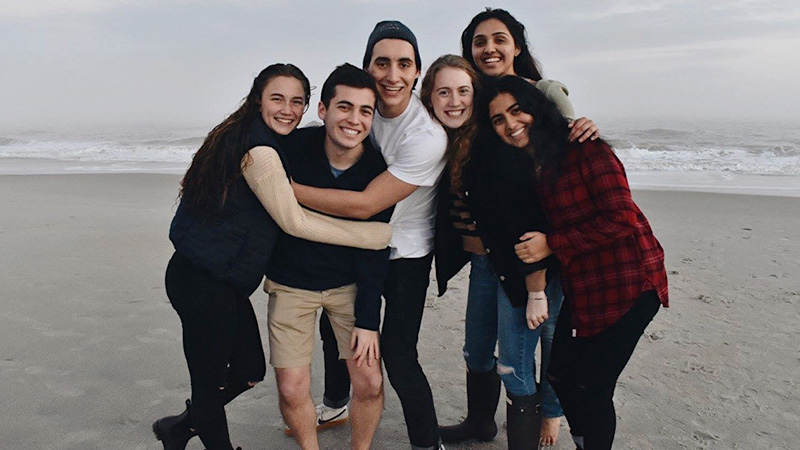 Why did you choose Emory (what was the biggest attraction)?
In Arizona, we have a running joke that there are only two seasons: summer, and slightly-less summer. When I was applying to college, I knew I wanted to experience a different part of the United States, but avoid places with too much snow. Emory offered me so much more than that: a campus environment within vibrant city, a diverse student body, and a unique cross-disciplinary curriculum that would allow me to explore beyond my major. Emory perfectly blends the opportunities of a leading research institution with the personalized learning experience of a liberal arts college. On a more personal note, I was excited to volunteer with Special Olympics Georgia, participate in Emory's Jewish life, and explore Atlanta's famous food scene!
Why is your major the perfect fit for you?
I have always been curious about people. When I was younger, I wanted to be a doctor, because I thought my passion lied in ensuring the health and well-being of others. But when I learned that becoming a doctor required me to take science classes, I decided against it. My first semester, I took a course in economics, expecting to hate it even though I knew nothing about it. As it turned out, economics provided the perfect framework to understand how the world works. It exists everywhere, from public policy, law, and finance, to something as simple as deciding whether to eat an additional slice of pizza. For the first time, I felt like I was studying something purposeful.
What professor has influenced you the most?
On a whim, I decided to enroll in a Freshman Seminar on Yiddish children's literature. I didn't even realize Yiddish Studies was a discipline—the only Yiddish I knew was oy vey, a phrase my great-grandparents used to say. In class, even conversations about mundane topics were engaging, mostly because of Professor Marshall Duke. He brings learning to life, and challenges his students to think critically about the world. I was so inspired by the stories we read in that course that I decided to write my own children's story. I'm currently working with Professor Duke to publish it!
What are your extracurricular activities (both on and off campus), and tell us a little about them?
On campus, I am a part of Consult Your Community, an organization that provides consulting services to Atlanta-based nonprofits and small businesses. I organize activities that promote conversations around disability issues with the Emory Disability Studies Initiative. You can also find me around campus as a Tour Guide or celebrating Shabbat at the Hillel. Outside of Emory, I run GOALS, a nonprofit soccer program for kids with and without special needs. I serve on the Youth Advisory Board for Plan International, a humanitarian organization dedicated to children's rights. I also work closely with Youth Service America as a National Ambassador.
What invaluable piece of advice would you give incoming freshmen?
You don't know as much as you think you do, trust me. There is so much knowledge right at your fingertips in college, so take classes and attend lectures on subjects you know nothing about. You never know when you'll find your new passion. Go to office hours, even if you don't need help with the material. Some of the best connections I have made at Emory have been because I wanted to learn more about my professors. I also discovered that some professors bring their dogs to work with them. Come in to your first year with an open mind. The life you imagine for yourself before college will change drastically, so embrace every new opportunity presented to you. The college experience is different for each person. And lastly, don't leave your clothes in the dryer after the cycle ends—someone else will take them out.

Josh Kaplan 21C
Phoenix, AZ
Economics and Global Development Studies
Don't hesitate to connect with us by posting a comment to this blog, tweeting us @emoryadmission, or emailing us at admission@emory.edu. We look forward to hearing from you!