Emory Community: Be All of the Things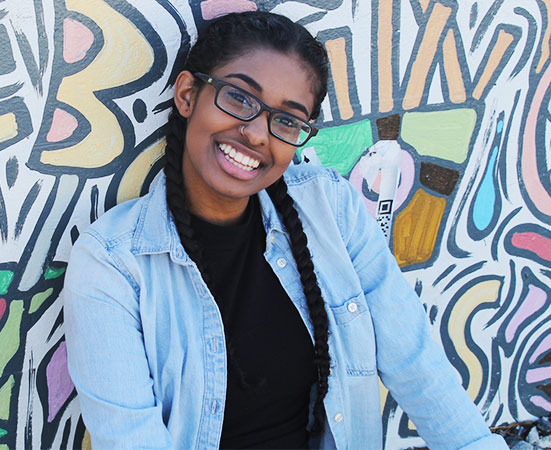 This week we're diving deep into the campus community at Emory University. Here, diversity goes beyond checking a box for race, religion, or gender, understanding that each student is a unique blend of all of this and so much more. We've invited seven current students to share about their community experiences, and we encourage you to read them all here.
Samah Sadig
Ethnically Sudanese, international citizen (grew up in NC, NY, Saudia Arabia, and Qatar)
Media Studies
Campus Involvement: Muslim Student Association, African Students Association, Center for Civic and Community Engagement, Orientation Leader, Ngambika step group
What identity(ies) do you feel most strongly connected to at Emory?
I am most strongly connected to my black identity. The black community is like a big family. As soon as I got here I felt so welcomed. I joined Ngambika, the all-female community service step team, that celebrates afro-centric women and truly made some lifelong sisters. The diversity among the black community itself is beautiful. Not only has this community taught me a lot about other cultures, but I have been able to learn more about myself.
How have you grown or changed by being a part of Emory's diverse community?
Until I came to Emory, I was constantly told I'm not American enough because I'm Sudanese, or I'm not Sudanese because I've never lived there, or I'm not Arab because Arabic isn't my first language. The fusion of cultures that I have experienced here has molded me into the strong, confident person I am today. At Emory, I don't feel like I have to conform to one particular group. I've learned that I can be all of these things that make up my identity, allowing me to have a wider, more insightful perspective on life.
What's your favorite multicultural celebration on campus?
It's hard to choose just one, but the African Student's Association "Taste of Africa" is definitely up there on my list. At Taste of Africa, students, faculty, and families (African and non-African) come out and celebrate the wide range of African cultures.
Don't hesitate to connect with us by posting a comment to this blog, tweeting us @emoryadmission, or emailing us at admission@emory.edu. We look forward to hearing from you!
Save
Save
Save
Save
Save
Save