Neuroscience & Behavioral Biology (NBB) is a popular major at Emory. However, our students aren't simply interested in just the sciences. We spoke with two students who combined their Neuroscience major with a major in the arts. Click here to read another post about an Emory NBB major.
Neuroscience & Behavioral Biology (NBB) and Theater Studies
Why did you choose to study Neuroscience and Behavioral Biology (NBB)? Did you know you wanted to when you came to Emory?
I came to Emory knowing two things: I love learning about the human body and emotionally moving people through theatrical expression. Otherwise, I had no inclinations at the time to pursue a specific major. It wasn't until my second semester of my freshman year, when I took "Anesthesia and Awareness" (an NBB freshman seminar), that I decided to declare my major in NBB and minor in Theater. Learning that the mechanism by which general anesthesia renders patients unconscious and inhibits their perception of pain, while maintaining their proper respiratory functions, is still a mystery that drew me to my decision.  Considering the brain is the most complex studied organ in our body and consists of over 100 billion neurons through which electrical signals travel at a velocity up to 100 m/s, you'll realize that it is truly tremendous both molecularly and structurally! The way you perceive pain, formulate ideas and memories, see, hear, smell, and make decisions are all a result of your brain's functions. On the other hand, my minor, Theater, is fascinating in its own entity because it provides us with a medium to act freely as we desire without fearing judgement from others.  
What do you think are the benefits of pursuing a liberal arts education?
Most of the time, we are expected to know what we professionally aspire to be at a young age and forget the importance of exploring topics concerning human experiences and expression. A liberal arts education allows us to explore topics you never would have been interested in and gain a stronger perspective of the human experience as a whole. If you are pre-professional, ask yourself how you can grow as an individual in the same way.  
Can you describe your favorite class or professor?
At Emory, I've been blessed to have been taught by several passionate professors but one of my favorite classes is Bioethics. In this class, through specific medical cases, we explore the marriage of scientific knowledge with human emotion. There are very few topics that involve this connection and it was interesting to see how it plays out in class and applied in our society.
What are you hoping to do after college?
I plan to pursue a career in the field of health since it provides me with the opportunity to challenge myself daily in the effort to cultivate a healthier community while simultaneously allowing me to use my theatrical skills to improve patient interactions.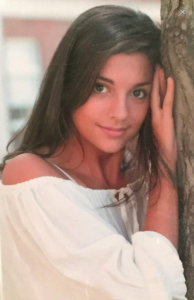 Lara Khoury 17C*
Neuroscience and Behavioral Biology (NBB), Theater Studies
Atlanta, GA
*Emory University uses these abbreviations to designate graduation year. For example, Lara will graduate in 2017 from Emory College with his bachelor's degree in Neuroscience and Behavioral Biology and Theater Studies.
Don't hesitate to connect with us by posting a comment to this blog, tweeting us @emoryadmission, or emailing us at admission@emory.edu. We look forward to hearing from you!