Voices of Emory: Addison Welch
Leadership Opportunities as a Freshman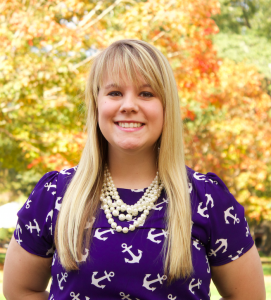 Oxford College was Addison's dream school since she first visited during her junior year of high school. In her time at Oxford, she has found the rigorous liberal arts curriculum fuels her passion for developmental pediatrics while also allowing her to discover new interests. She values the connections she has made with Oxford's faculty, especially Dr. Jennifer McGee, with whom she has taken three courses. Addison had this to say about Dr. McGee:
"She is a fantastic model of teachers truly caring about their students. I've never seen someone care this much, especially when they don't necessarily have to. She always makes herself available to us, and has supported my passion for Autism research. She's become a great mentor and friend, and we even text sometimes."
In addition to pursuing her academic interests, Addison has also taken advantage of many leadership opportunities. Some of her favorite activities include being a Peer Assistance Leader (PAL), orientation leaders who also mentor a group of freshmen; Student Admission Association Ambassador, a tour guide for families visiting campus; and Pierce Service Corps member, with which she has completed almost 500 hours of service. In addition, she is on the Executive Board of the Omega Delta social club, and just joined the Delta Phi Epsilon sorority at Emory College of Arts and Sciences. Addison appreciates that each of her extracurricular activities has enhanced a different set of strengths:
"Being a PAL has developed my relationship building skills, and I loved seeing my orientation group find their own community. In the Pierce Service Corps, I volunteer at a teen drug rehab facility, which has opened my eyes to the many social issues juveniles face. Finally, being an Admission Ambassador constantly reminds me–amidst all the stress–why I love Oxford so much, and I get to share that with prospective students."
This is Addison's last semester at Oxford College before continuing to Emory College of Arts and Sciences. During the summer, she plans to gain experience with an Autism research internship.
Addison Welch, 16OX 18C*
English and Neuroscience and Behavioral Biology double-major, Pre-Med track
Dawsonville, GA
*Emory University uses these abbreviations to designate graduation year. For example, Addison will graduate in 2016 from Oxford College (OX) and then finish her junior and senior years at Emory College of Arts and Sciences (C), graduating with her full bachelor's degree in 2018.
Don't hesitate to connect with us by posting a comment to this blog, tweeting us @emoryadmission, or emailing us at admission@emory.edu. We look forward to hearing from you!