Without a doubt, there is nothing more exciting and nerve-wrecking than leaving home.
For me, the part of going to college that made me the most nervous was the concept of being in a new place, with completely new faces all around me. Living in a town where I had gone to school with the same people for 12 years, the prospect of making new friends at Oxford College seemed daunting.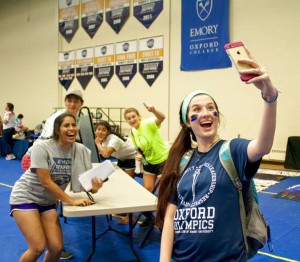 Luckily for me, Oxford College had organized the freshman class into "PAL" groups from the very first day of being on campus. These are groups with around 14 freshmen, and a sophomore leader. From the get go, this made a lot of my fears of starting college diminish. I now was meeting people from all over the world and country, had a group of people to sit with at Lil's for meals, and was able to get authentic advice about campus life from an Oxford sophomore. What I really loved about PAL groups in general was the fact that we really did have so many chances to bond with each other throughout orientation week. We weren't just thrown into classes and expected to adjust to college life right away—Oxford first cultivated an environment of support from each other and staff for us to lean on.
One of the biggest bonding events we did not just as a PAL group, but as a class, was the Oxford Olympics. Coming into orientation week, I was anticipating everyone who was attending to be competitive people by nature, considering the standards students must meet in order to get accepted to an Emory institution. However, I was pleasantly surprised by how encouraging everyone was to each other. During the Oxford Olympics, groups competed against one another in events such as jousting, corn hole, and tricycle relay races. When competing, not only did my own team cheer for me, but the member of other teams congratulated, complimented, and encouraged me as well. It was during the Oxford Olympics, when I not only felt support—but saw others supporting each other, I realized I was part of a truly unique campus community.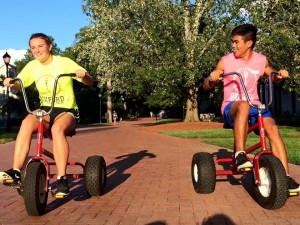 At Oxford, the competitiveness of students is equally matched by their support of each other. Students truly want to see others succeed just as much as they want to succeed themselves—it made the campus start to feel like home faster than I ever anticipated it would.
For me, being so far from home overall was surreal for the first week or so. There's so many new clubs to discover, food to eat, and friends to make that you barely think of home. It wasn't till someone told me they were leaving to call their mom around two weeks into college, that I realized I had only sent my parents a few texts here and there. Calling your parents, I discovered, is probably one of the most neglected things that college students don't do that they really should. Of no fault of their own, the whole experience of being somewhere new really drowns out the thoughts you have of the past. Even if you feel like you have no time while on campus, try to make it a point to call the people who helped you get to college at least once a week. Keep in mind that while you're gaining tons of new things in your life, they just lost a huge part of theirs.
A lot of students—including myself—mark on their Oxford agenda, place a sticky note reminder, or set an alarm on their phone reminding them to call their parents. As you're getting to enter college, remember: it's important to be invested in your own personal growth as an individual, but also just as important to thank those that made the opportunity of going to college possible.
Best wishes on your college applications!

Raquel Solla
17OX, 19C*
Major: Undecided
Windsor, CT
*Emory University uses these abbreviations to designate graduation year. For example, Raquel will spend her first two years at Oxford College (17OX) and then graduate with her bachelor's degree from Emory College in 2019 (19C). So she's currently a freshman.
Don't hesitate to connect with us by posting a comment to this blog, tweeting us @emoryadmission, or emailing us at admission@emory.edu. We look forward to hearing from you!