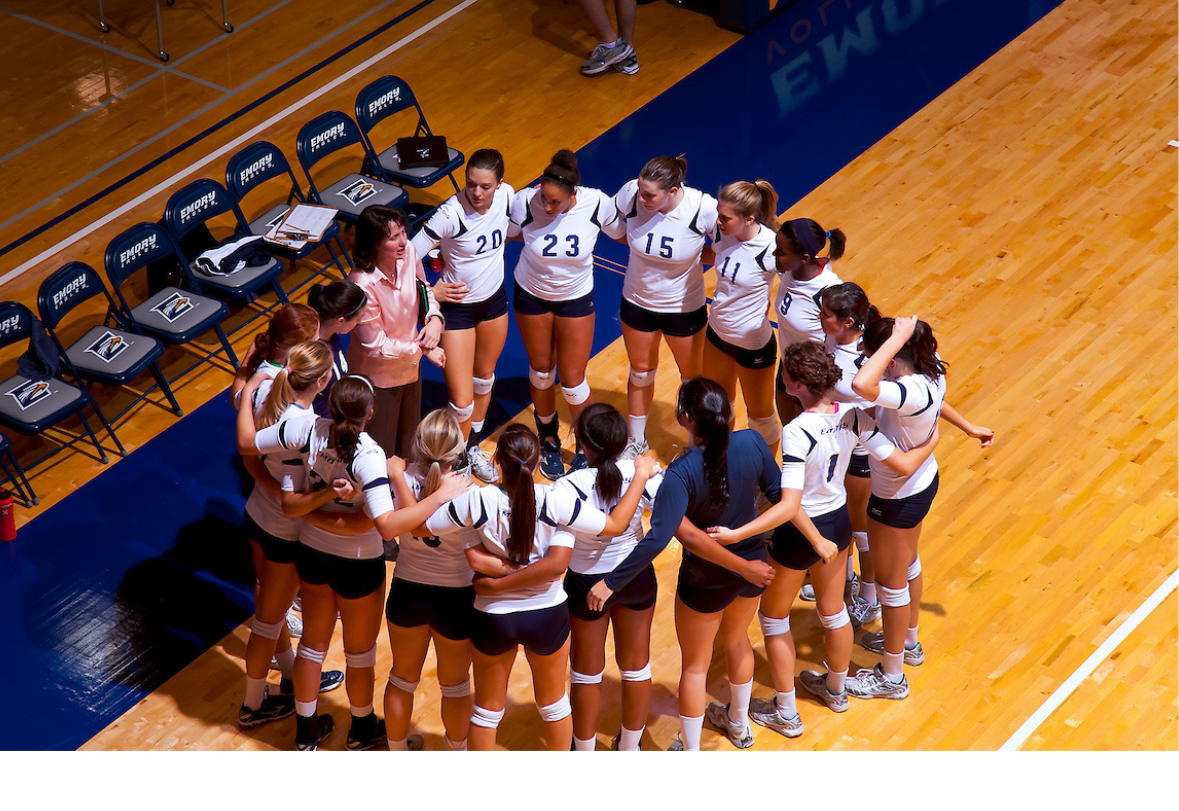 Did you know that the Emory mascot is an eagle? Before 1960, Emory had a few mascots–the hillbillies, the tea-sippers–but nothing represented the drive and pride of either the student athletes or the university itself. A student proposed that the majestic eagle should be the university mascot.
Did you also know that the eagle's name is Swoop? Swoop has been the face of the Eagles since Emory began NCAA competition in 1986. In addition to his appearances at Emory games, Swoop has represented Emory Athletics off-campus and has served as not only a symbol of school spirit but that of volunteerism, a core Emory value.
In this blog post, we'll review some of the essential components of Emory athletics – everything from intercollegiate sports to physical fitness.
Intercollegiate Athletics
Emory University has an intercollegiate athletic program with over 400 student-athletes participating in 19 varsity sports. Since the start of its participation in the NCAA, Emory has acquired a total of 49 All-American athletes. Furthermore, Emory is proud to be home to the following accolades:
32 NCAA championships
220 UAA titles
125 NCAA postgraduate scholars
In fact, in just the 2022-2023 academic year alone, Emory University has celebrated six conference championships and a department record of 15 CoSIDA Academic All-Americans.
Check out the Emory fight song to get in the school spirit and review our Intercollegiate Athletics program to see team offerings and schedules.
Club Sports
Emory University upholds the tradition of "Athletics for All," which encourages the entire university community to engage in community building and balancing the body, mind, and spirit.
The Department of Recreation & Wellness provides facilities and programs that promote physical, emotional, and social growth through a fostering of valuable skills centered around sustainable fitness and wellness ideals.
Learn more about Emory Club Sports at Emory University to see how you can engage in physical activity and wellness while fostering social connections and building interpersonal skills.
Recreation & Wellness
Beyond competitive sports, you can also engage in athletic activities as a way to decompress and keep fit–or just to have fun. Check out the Recreation & Wellness section of the Emory website to learn more.
Emory Recreation & Wellness provides opportunities in club sports, credit and non-credit instructional classes, fitness classes, intramural sports, personal training, rock climbing, special events and more.
For Oxford College students looking to engage in team sports, Oxford offers varsity sports in soccer, basketball, tennis, golf, cross country and more.
You can also incorporate physical fitness courses into your curriculum. To learn more about these offerings, check out the Physical Education page.
Facilities
Emory University has a comprehensive selection of athletic facilities you can choose from based upon your own personal athletic goals. Check out the Woodruff Physical Education Center (WoodPEC for short), where you can climb the rock wall, go for a swim, lift weights, or shoot some hoops.
The Student Activity & Academic Center, located on the Clairmont Campus, is home to a fitness center, pool, and multipurpose gym. In addition to indoor facilities, the SAAC also offers an array of athletic fields where students can play tennis, volleyball, basketball, and more!
For Oxford College students, the campus offers the Williams Gymnasium, an aquatic facility, a weight room, tennis courts and an athletic field.
Ready to take the next steps?
Emory University has so much to offer, including a wide selection of intramural and club sports. Want to learn more about the university or schedule a visit to learn more Emory athletics
you can participate in during your career here? Check out our Undergraduate Admission page.