My Top Eight Favorite Study Spaces at Emory's Atlanta Campus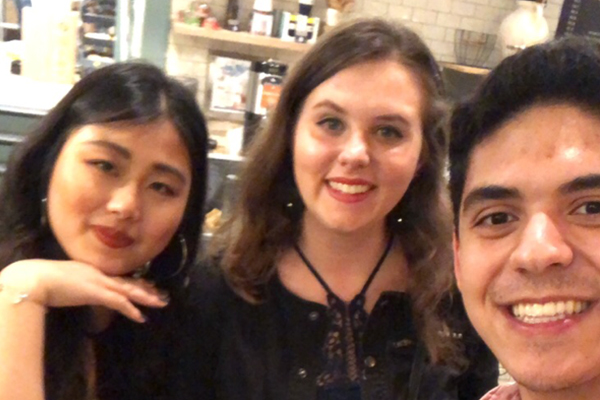 Emory University is home to many hardworking students and many fantastic study spaces. Because there are so many different high-quality places to study at Emory, it means that no one space ever gets too crowded. Here are some of my favorite study spaces on Emory's Atlanta Campus.
#8 The Lobby of the Math & Science Building
The Lobby of the Math & Science Building has floor-to-ceiling windows that let in tons of natural light. This makes it great for studying, especially for those who choose to major in Mathematics or Physics. Students can study in various armchairs, small tables, or at the large communal table. There are also wooden tables in the building's outdoor courtyard for studying on nice days.
Fun Fact: The Math & Science Building is also home to Emory University's planetarium dome, as well as the Emory Scholar's Program Lounge. It also has a large telescope used for Astronomy classes and research at Emory.
#7 Residence Hall Study Rooms & Open Lounges
Every residence hall at Emory is home to multiple high-quality study rooms. Depending on the size of the building, there can be one or multiple per floor. Residence Hall study rooms and open lounges are abundant, and serve as a great place to get work done without having to leave the building. Sometimes the open lounges can get loud, but most study rooms are reserved for more quiet studying.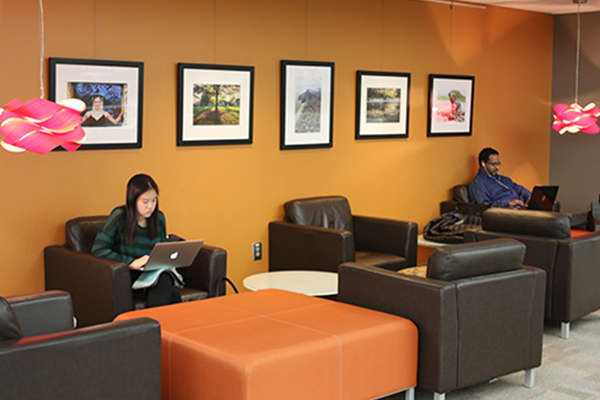 #6 Kaldi's @ The Depot
Open until 2:00 AM, 7 days a week, Kaldi's is where you can find some of Emory's hardest-working students working late into the night while enjoying food from a comprehensive menu. This is one of the more energetic study spaces on campus (it's not always the quietest), but later at night tends to be quieter. For students who want to work together with friends on projects (or for those who just want to catch up with each other over pastries, coffee or brunch), Kaldi's serves the needs of most Emory undergraduates. It is located right next to the Longstreet-Means and Raoul first-year residence halls, and down a flight of stairs from the First-Year Quad area.
Note: Kaldi's is one of the more social study spaces on campus, so for someone who is easily distracted (like me), it's not always my first choice. Most of the time Kaldi's can be a great place to study, and on many occasions, I've worked productively there. These three photos are the most representative of my typical study experiences at Kaldi's.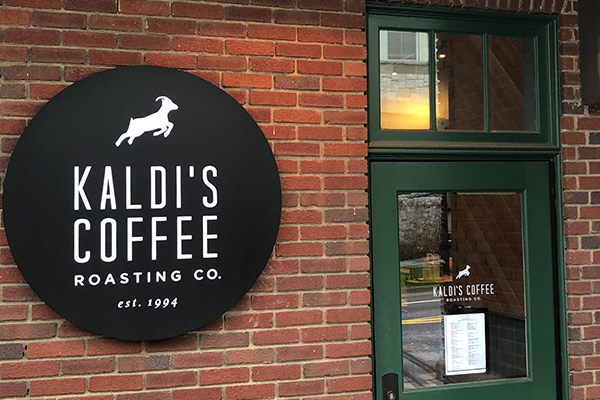 #5 The 2nd Floor Computing Center of Cox Hall
This is another one of Emory's energetic study spaces, but the volume is usually lower than Kaldi's. The Cox Computing Center is also home to a variety of video-gaming consoles and videogames that students can drop by and use to de-stress. It is located right next to Alabama Hall, and is also steps away from Dobbs Hall and Harris Hall.
Some students also like to take mid-day naps on the comfortable beanbag chairs or couches in Cox if they're feeling too sleepy to return to their dorm rooms. I like Cox because it's located right in the center of campus and serves students who have an hour between classes and want to accomplish some studying. It's also home to four classrooms and group study rooms that students can reserve in advance.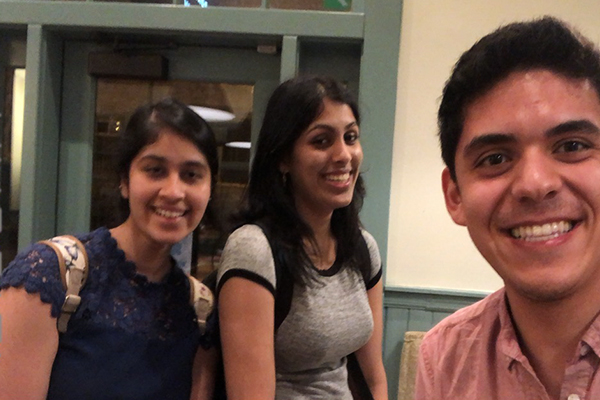 #4 The Robert. W. Woodruff Library
Affectionately referred to as "Club Libs" by many Emory students (and sometimes as "Libs" for short), this is the largest library on Emory's Atlanta campus. It's also the classic place where many students choose to study when they need to get work done. It is located near Complex and Harris Halls, as well as the Roberto C. Goizueta Business School.
The Robert. W. Woodruff Library's ten floors offer something different for every student.
The first floor is the "social floor", and its abundance of booths and large tables makes it conducive for group study. Also located on the first floor is Peet's Coffee, where one can purchase coffee and study snacks up until 1AM. The second floor (entrance floor) of the Woodruff Library is home to a large common study area with many tables and desks, the Goizueta Business Library, and EPASS, Emory's student-run peer tutoring services.  There are also fifteen study rooms that students can reserve online in advance through the SDL Resource Scheduler.
Some other highlights: The 3rd floor is a quiet study space (where talking is strongly discouraged), and is also home to The Matheson Reading Room, a beautiful (and entirely silent) study space with sculptures, chandeliers, and large wooden tables as well as some armchairs and individual study spaces. If you (deliberately) talk inside of the Reading Room, you will receive numerous death stares from Emory's (usually super nice and polite) students, so please don't do that fam.
The 4th floor of the library houses the Music & Media Library, which is a fantastic quiet study space as well. Within the Woodruff Library Tower, which extends up from the Main library building, the 4th-8th floors are referred to as "The Stacks," which house Emory's book collections, and many individual study carrels where one can choose to study in total silence. The 9th Floor is administrative and Staff Only, and the 10th Floor houses the Stuart A. Rose Manuscript, Archives, and Rare Book Library.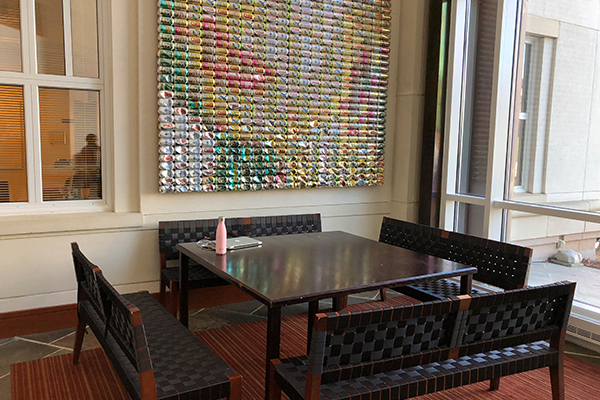 #3 The Samuel L. Atwood Chemistry Building
Discovering the Chemistry Building as a study space was a game-changer for me. It's such a nice building that it almost inspired me to become Pre-med (almost). It's quiet, super new, and has many different types of study areas that benefit those who want to study individually or in groups. It's also home to one of Emory's two locations of Highland Bakery, one of the best places on campus for coffee, smoothies, and sandwiches on campus; this means that it's often dangerous for the wallet as well.
Note: The Chemistry Building is home to a decently sized Cookbook, Travel Book, and Lifestyle Book library on the bottom floor. Students can check out books at their leisure at the Chemistry Building's Information Desk.
Located near the Biology Building and Emory Medical School facilities, this is my favorite on-campus library to study at as someone who appreciates quiet study spaces. The entrance floor allows for quiet discussion, but the second floor is home to the largest silent study space at Emory. It's super nice, and conducive to getting lots of work done, which is why I choose to study there when I don't want to be distracted.
The Health Sciences Library has an abundance of sofas, armchairs, and individual study carrels. It is also home to a fair number of study rooms that students do not book in advance – students can go to the desk to request the keys to one of eight different study rooms located throughout the building. The only reason why this is not my absolute favorite study space on campus is because it's a little away from some of the residence halls on campus (such as Dobbs, Alabama, Complex, and Harris), though it is located right across the street from the Woodruff Residential Center, making it convenient for residents of that second-year residence hall.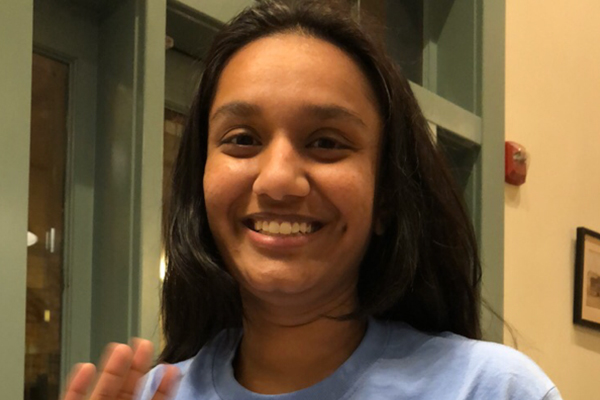 #1 The Pitts Theology Building and Theology Library
This is my absolute favorite place to study on-campus! The Pitts Theology Building is conveniently located near White Hall, the Samuel L. Atwood Chemistry Building, and the Emory University Quadrangle, making it accessible from most of Emory's class buildings. It's also home to a variety of different study spaces. The building's large windows brings in natural light throughout the building. Additionally, the Pitts Theology Library is a quiet study space. Because of the abundant metal chairs and tables located next to the building's sunny porch area, students often study outside on Atlanta's many nice days.
If you decide to come to Emory, there will never be a time where you will find yourself with a lack of options to study. Other great study areas include the Starbuck's Coffee in the Oxford Road (Admissions) Building as well as various locations within the Goizueta Business School.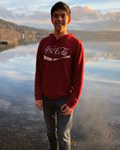 Dylan Frank, 20C
New York, NY
Economics and Chinese
Don't hesitate to connect with us by posting a comment to this blog, tweeting us @emoryadmission, or emailing us at admission@emory.edu. We look forward to hearing from you!