A Place at Emory for Those Who've Served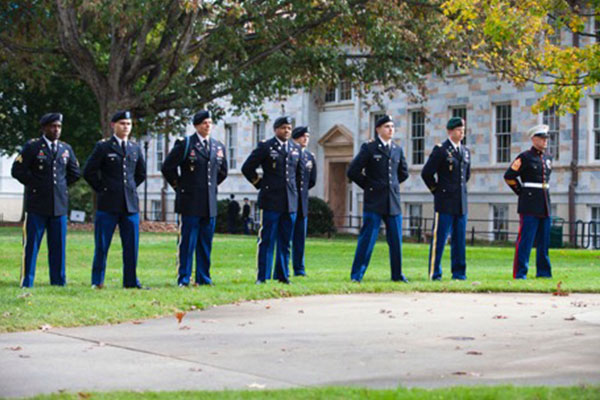 Our love, our gratitude, our admiration for our men and women in uniform, our veterans and their families—all is bigger than any one party or any one election. –Michelle Obama, 2016
A hallmark of students who decide to come to Emory—and succeed here—is their desire to pursue knowledge for the greater good and serve their communities. Many prospective students do this by serving in soup kitchens, participating in service trips, or even starting their own service organizations.
During their tenure at Emory, many students get involved with Volunteer Emory, join service fraternities or sororities, or tutor other students through our Writing Center. After Emory, many alumni continue to serve in these roles and more. In addition to all of these great ways to serve, some of Emory's prospective, current, and former students have chosen to serve as members of the Armed Forces.
This Veteran's Day, our office extends its sincere gratitude to all veterans of the Armed Forces and their families for their service. Without their sacrifices, Emory and the United States would not have many of the freedoms we enjoy. As a university, current and former members of the Armed Forces are invited to consider Emory for their academic home.
Emory University is as a proud member of the Yellow Ribbon Program and accepts veterans as first-time and transfer students. For more information on Veteran's Admission and Benefits at Emory, please visit our Veterans Admission page online. 
Would you like serve in the Army or Air Force after graduation from Emory?
Emory and Oxford College students have the option of participating in the U.S. Army or U.S. Air Force Reserve Officer Training Corps (ROTC) through a cross-enrollment agreement with Georgia Tech. This allows students to pursue undergraduate degrees at Emory while completing military training at Georgia Tech. And upon graduation from Emory, ROTC students are commissioned as officers in the U.S. Army or Air Force.
For more information on ROTC Programs and scholarship opportunities, please visit the U.S. Army ROTC or U.S. Air Force online.
Don't hesitate to connect with us by posting a comment to this blog, tweeting us @emoryadmission, or emailing us at admission@emory.edu. We look forward to hearing from you!
Save
Save