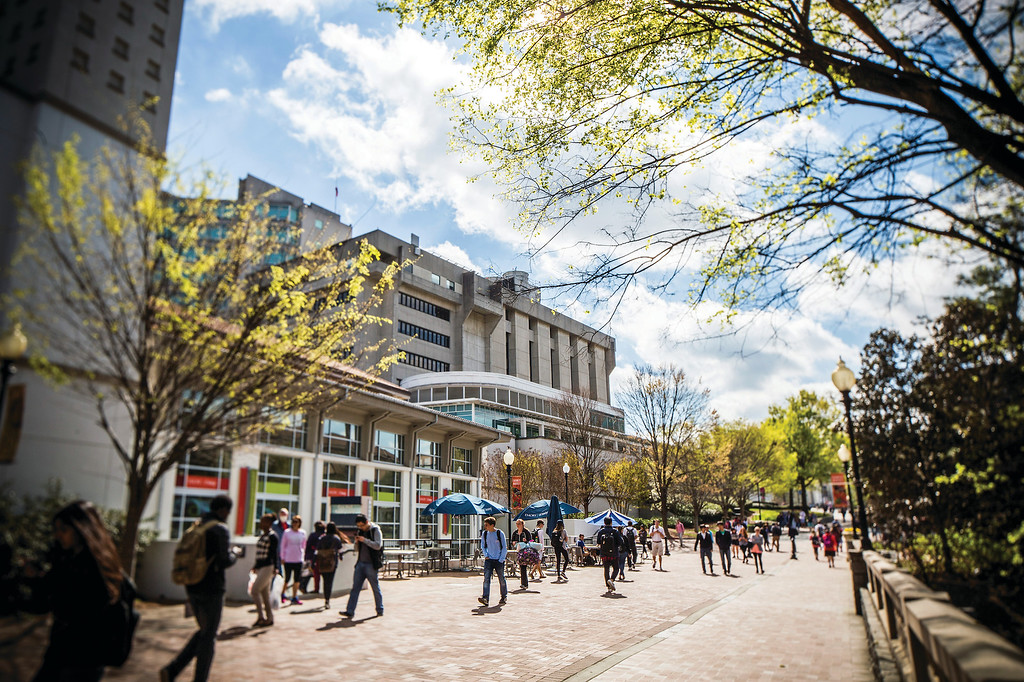 As you're preparing for a visit to Emory University you might find it can be challenging, even overwhelming, to take everything in all at once during your time on campus. It's a good idea to prepare a list of questions beforehand so you'll be able to review them later as you proceed with your college admission process.
With that in mind, let's review 10 questions you may want to ask your tour guide or student ambassador during your visit to Emory University.
10. What are the most popular majors?
You don't have to decide upon your major the moment you come to campus, but it's a good idea to consider a few options. Asking about popular majors is a good idea because even if the answer might not include your chosen major(s), it gives you an idea of the areas students focus–and what the school is known for.
9. What are popular extracurricular activities?
While you might spend a lot of your time considering the academic parts of the college experience, extracurricular activities are just as important. Knowing how students are spending their time outside the classroom gives you not only a good idea what activities you might want to join, but the values of the student body. For instance, volunteering is an extremely popular activity at Emory.
8. How is on-campus housing?
For many students, college life might be the first extended time away from home. It's important to know how the residence halls are!
An answer to this question might provide some context about how students enjoy living on campus and the benefits of dorm living. Everyone has different needs and preferences, and chances are, you'll definitely want a comfortable place to relax and unwind. It's best to do your research about living spaces during your visit.
7. What academic services are available to students?
When you're navigating the college experience, it can be rigorous at times, especially when it comes to academics. That's why it's a good idea to ask about how you'll be supported in your coursework.
Emory University has a robust library and learning resources system, on both the Atlanta and Oxford campuses. In addition to those resources, there is also a writing center and peer tutoring available.
6. How easy is it to find summer work, internships or jobs after graduation?
Believe it or not, four years can go by very quickly and soon you'll be switching from the college experience into a career path. It's important to know that the college you choose has the resources available that will help you start your career when you graduate.
Whether it's engaging in preparatory work during your time at college through an internship or summer job, finding work during your time at college is important as well. Asking about job prospects–and the possibility of making professional connections–is a pertinent question to ask on your college visit.
5. How big are classes?
This answer could vary depending upon who you ask; different majors and concentrations have varying class sizes. First-year classes also tend to be slightly larger than upper level studies.
On average, the class size at both Oxford and Emory Colleges is about 20 students, with 84% of classes having fewer than 30 students. That means you'll get to know your professors and they'll get to know you. The smaller classes at Emory can have a major impact on your learning.
4. How would you describe the student body?
You'll be engaged in a wide variety of pursuits during your time at college: studies, activities, initiatives, seminars–the list goes on. You should want to know the types of folks that will surround you, who will enrich your experience, and may even prove to be lifelong friends.
Understanding who attends the school you're considering is an important part of the college decision process. By knowing who the students are, where they come from, or what they're pursuing, you'll be able to see yet another aspect of the school experience and what it could mean for you.
3. What is there to do in your free time?
College life extends far beyond the classroom. Whether you're engaged in extracurricular activities like student organizations or volunteering, there's always something to do. But what about when you want to relax?
Finding out about how you can spend your free time is an important part of deciding upon which college to attend. You want to be sure the school you land on has what you want–whether that's quaint coffee shops, nearby hikes, or a world-class city just down the road (yes, Emory University has all three).
2. What are some things you wished you knew as a first-year student?
This answer could include topics like academic workload, how much reading is required for classes, spending time away from home, or even making friends. It could also include tips on how to prioritize your time, where to find the best quiet study spots–or even how to spend the perfect Saturday night on a budget.
Whatever the answer might include, it'll be helpful to hear from someone, like a student tour guide, who has been in your place recently and can offer insights that will inform your college decision-making.
1. What makes Emory University unique?
The answers you get to this question might be different every time you ask! But the answer might also give you a little insight about whether Emory University is the right college for you and your personal goals.
The answer could mention something like the thrill of living close to Atlanta, the tradition of volunteering, or the academic opportunities that come from attending a prominent research university.
Remember, this list is just a jumping off point for you as you prepare for your visit; be sure to add more questions that connect to your own experience. Ready to find out more about Emory and start planning your visit to our Atlanta and Oxford campuses? You can check out our Visit and Engage page or schedule a visit.