5 Reasons to Join a Student Club or Organization in College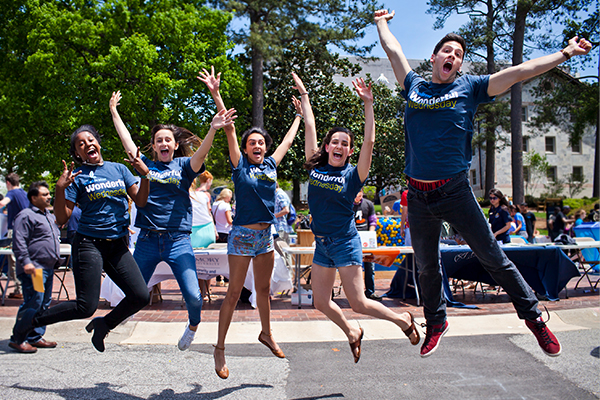 Starting off your college career can be overwhelming at times. As you adjust to a new way of life–and start pondering your future–you'll no doubt have some extra time on your hands when you're not focused on school work.
Sometimes it can be hard to make connections as a first-year student, but that's where student clubs and organizations come in. Emory University has a wide array of on-campus organizations (about 480 to choose from!) that students can join. There's everything from student government and volunteering to a capella groups and club sports. No matter your interest or skill level, there is something for everyone.
While you're sure to find your niche at Emory, you might wonder: why join a club or organization at all? Well, here are five reasons:
When you join a club, you get to:
Meet New People
Explore Your Interests
Build Community
Gain Knowledge
Give Back
And, to be honest, you'll have a lot of fun. But first, let's dive a little deeper on these five reasons.
1. Meet New People
There are many types of clubs on campus at Emory that cover a broad spectrum of interest areas, including sorority and fraternity life, debate, the arts, shared identity, and more. But no matter the type of club, you'll meet new people.
Clubs and organizations provide opportunities for students to foster connections through mutual interests. They're accessible, built-in ways to form new friendships and create shared experiences.
2. Explore Different Interests
For many, college can be a time of exploration. Your time at Emory should be one of rich experiences, growth, and learning. But first, you must find out what exactly your interests might be. If you don't know–that's fine! Emory University's student clubs and organizations can offer whatever you might be seeking!
3. Build Community
So many Emory students are far from home, and sometimes it can feel challenging navigating new spaces, especially if it's for the first time. That's why joining a club or organization at college is so important in building your own community.
At Emory University, there are several organizations that provide students a "home away from home," whether it's based on religion, race, ethnicity, gender, or sexual identity. These student organizations emphasize celebrating individuality and common connections–and they can be supportive spaces where students can come together and grow.
4. Gain Knowledge
Beyond fostering social connections and building community, joining a student club or organization is a fantastic way to gain knowledge that you might not always receive in a classroom.
No matter the student organization you might choose, the experience is sure to provide you with leadership skills, interpersonal skills and even professional networking connections. For instance, engaging in activities with Volunteer Emory can offer experiences in fundraising, event planning and management skills.
5. Give Back
Emory University has a strong tradition of community service work and volunteering–a tradition that still enjoys a robust presence on campus today. In fact, 83% of Emory students volunteered last year.
With so many opportunities to serve on campus, in the local Atlanta community, or even abroad, Emory University provides ample experience to students who are eager to give back. You can check out some of the offered outreach programs here.
The Takeaway
While the Emory University student clubs and organizations number in the hundreds, the community is active, diverse and dedicated to giving back. No matter your area of interest, Emory has something for everyone. Need a place to get started? Check out the Student Activities and Organizations page.