We understand that a big part of the college decision-making process is the cost. Every family has their own unique financial circumstances–and there are many ways to fund the cost of tuition and other expenses. If you're curious about qualifications and the different types of aid,  advisers in the Undergraduate Office of Financial Aid are ready to assist at any time during the application process.
But first, the facts: The majority (61%) of Emory University undergraduate students receive some form of financial aid, with 19% of students receiving Pell grants. Furthermore, $229 million in aid was awarded last year. We are committed to ensuring that students have access to financial opportunities so that they can receive an Emory University education.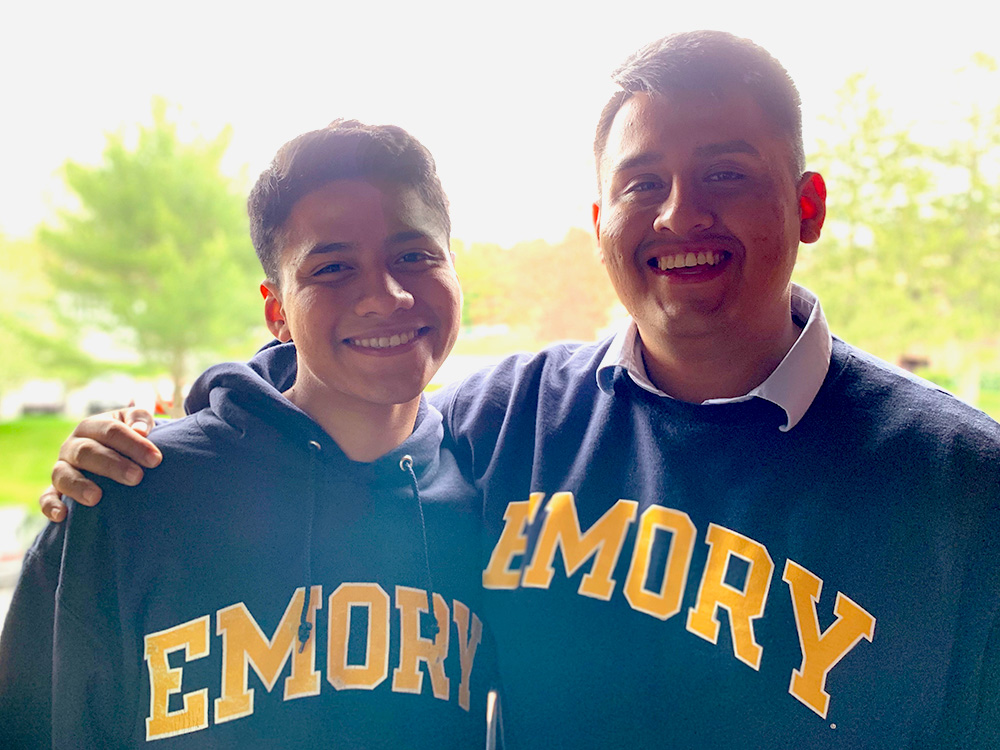 That's why there are many pathways and resources available to students—and we'll guide you along the way. In this blog, we take a look at the following areas pertaining to financial aid:
Merit-Based Awards
Need-Based Assistance
Emory Advantage
Questbridge
Merit-Based Awards
At Emory, our staff will look for merit-based funding for your student based on their admission application and, if applicable, their financial aid application materials. 
Merit-based grants and scholarships are awarded based on a student's academic performance, test scores, extracurriculars, community service, and more. Many colleges and universities offer merit awards, but so do some private and governmental organizations. Here are just a few of the awards offered:
Need-Based Assistance 
We meet 100 percent of demonstrated need for every admitted domestic student. Furthermore, we'll guide you as you navigate the financial aid process, providing information relevant to your circumstances along the way.
A number of sources, including federal and state governments, institutional grants and scholarships, and private loans, provide need-based financial assistance. Our financial aid office can help you determine which path is best for you and your family. 
For prospective students who believe that they or their family will not be able to afford to pay for college on their own, they should complete the Free Application for Federal Student Aid (or FAFSA). Emory also requires financial aid applicants to complete the CSS Profile and to submit your parents' recent tax filings.
Using the information provided in a student's financial aid application materials, a college will calculate the difference between the school's cost of attendance (including tuition, housing, and food) and the expected family contribution, to determine a student's financial need. 
Note: Emory College and Oxford College have the same cost of attendance. 
Emory's financial aid office will then prepare a financial aid package that covers as much of this amount as possible. Most students with financial need receive a combination of the following: 
Grants

—Gift assistance that does not have to be repaid. This includes grants like the

Pell Grant

and the Federal Supplemental Educational Opportunity Grant (SEOG).

Work-Study

—An award that gives the student the opportunity to obtain a paid work position on campus while in school.
Emory is committed to helping students graduate debt-free. If traditional sources of need-based aid do not cover a student's demonstrated financial need, we offer an Emory Advantage grant to cover the difference instead of recommending loans.
Emory Advantage
Emory University is committed to making an Emory education within reach of all qualified Emory students regardless of their financial resources. Therefore, Emory University gives students the opportunity to graduate debt-free with the Emory Advantage program. 
Through this initiative, institutional grants will be offered to undergraduate students to replace need-based loans as part of their financial aid packages. Beginning with the 2022-23 academic year, this program will be available to all undergraduate students with a demonstrated financial need, regardless of income level. 
External Scholarships
The QuestBridge National College Match helps exceptional low-income high school seniors gain admission and full four-year scholarships to selective schools like Emory University. To learn more about the application process, you can visit their website. 
In addition to the multitude of aid options through Emory, there are external scholarships as well. 
Calculate the Cost
To formulate an estimate as to how much college might cost, you can find out through our MyIntuition calculator here. This tool can help you anticipate your college costs and estimate your eligibility for need-based scholarships. An education at Emory University is more affordable than you think.
Whether you're curious to learn more about merit-based opportunities or need-based assistance or would like to find out more about qualifications, Emory's Office of Financial Aid is here to help.
Learn More About Applying to Emory
Sign-up for our Emory newsletter here or add us to your Common App