Strong Personal Statements: Demonstrate your unshakeable curiosity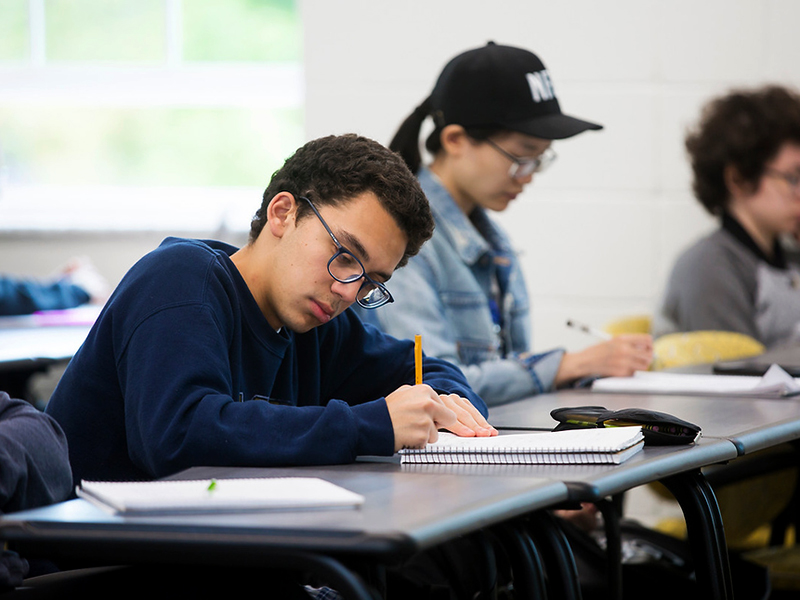 We're sharing exceptional personal statements from last year's applicants to illustrate that a good personal statement can be on a variety of topics, but ultimately, showcases the student's character, curiosity, and voice. These statements, written by students now enrolled at Emory University, were selected for many reasons, and we asked our admission staff to share what made each statement stand out.
This is Part 2 of a 5-part series on application writing; read Part 1 here, Part 3 here, Part 4 here, and Part 5 here.
Some students have a background, identity, interest, or talent that is so meaningful they believe their application would be incomplete without it. If this sounds like you, then please share your story.
Most airplanes are constructed with seats in rows of two or three. Mathematically, that means no matter the configuration, someone in my family of five has to sit by a stranger. Ever since I was little, I always asked to be that person. Perhaps it's the optimistic middle child in me, but I always considered the greatest possibility was that I could meet someone remarkable, and that the conversation could be anything on the spectrum from slightly interesting to life-changing.
From the time I could speak, I began to realize that overcoming communication barriers was an integral key to unlocking the enormous potential in constructing meaningful relationships with others. My father is a successful scientist, but he has also been profoundly deaf since birth. My childhood was spent understanding his intelligence while still struggling at times to convey basic needs because I was choosing words that were too difficult to lipread and that I couldn't yet write. As a kid, I learned how to continually recalibrate my own approach to overcome the challenge of constantly being misunderstood. My ability to build a relationship with my father was contingent on spending a lifetime navigating around the communication barriers that exist for someone who cannot hear. At the time I didn't foresee I was developing an aptitude for communication skills that would be critical for succeeding in so many other important areas.
Since kindergarten, I have loved Chinese culture. My mom got tired of me requesting panda birthday cakes year after year and seeing me dressed as a panda each Halloween until I grew out of every costume. In second grade, I convinced the owner of a noodle house to give me two Chinese lanterns that still hang in my room today. In my junior year of high school, I earned a competitive scholarship from the U.S. State Department to study abroad for the summer learning Mandarin and immersing myself in eastern culture. Being dropped into Chengdu, China when you don't speak the language fluently and being cut off from all communication back home was not all the cuddly pandas and Tai chi in the park that I had fantasized. Once again, I found myself a toddler, unable to communicate basic needs. I wondered, "Are humans really supposed to eat all the foods you're giving me?" I quickly learned the Chinese education system is one of unparalleled expectations, not for the meek. With every grade a student receives, they can see their successes or failures broadcasted on a board in front of the class. Each new day tested my adaptability, my resilience, and my digestive system. I, for the first time, realized what it must feel like to be my father on the other side of the communication barrier, not just trying to express my needs, but trying to really understand what others are saying. At the end of the program I was told I had been unanimously voted by my school administration in China to represent the scholarship recipients and deliver a speech on their behalf to over 500 people… in Chinese. The flight was now descending after so many remarkable experiences and conversations with strangers.
Throughout my life, I have learned that the path to overcoming communication barriers is to will oneself through them. One must embrace it all and say "yes" to every new and uncomfortable experience. In the end, I returned home with a cultural awareness beyond expectation, possessing lifelong friendships with former strangers whom I now communicate with in their native language, and surprisingly loving the taste of rabbit eyeballs and cow intestines.
I am so grateful to have learned and confirmed in my life that stepping out of my comfort zone can, in fact, lead to experiences anywhere on the spectrum from slightly interesting to life-changing. On the flight home from China I, of course, chose to sit next to a stranger… and it didn't disappoint.
Feedback from Admission Staff
As we read applications, each student has a team of admission staff assigned to their file to review it and assess the student's potential. The staff responsible for this student's file had this to say about the personal statement:
From the moment I read the first few sentences of this student's essay, I knew that they would be a good fit for Emory. They valued conversations, were insatiably curious, and open minded. Not many people would admit that they enjoy striking up a conversation with a stranger on an airplane. Well, this student does and embraces these types of chance encounters because they view them as opportunities to learn and grow, qualities that we're looking for in an Emory student.
In a time when people seem to be mis-communicating rather than communicating, this student is clearly someone who understands the impact that words can have on others and is focused on improving his communication skills to build strong relationships with others, especially his father. Moreover, the student literally moved beyond his comfort zone to China for one year where he personally experienced barriers to communication, found creative solutions to break down these barriers, all while building bridges with his fellow students.
Care, compassion, and a desire to make positive change emanate from the essay. This student clearly embodies Emory's mission to use knowledge to serve humanity, and we can't wait for him to strike up those impactful conversations with the Emory community.
Don't hesitate to connect with us by posting a comment to this blog, tweeting us @emoryadmission, or emailing us at admission@emory.edu. We look forward to hearing from you!