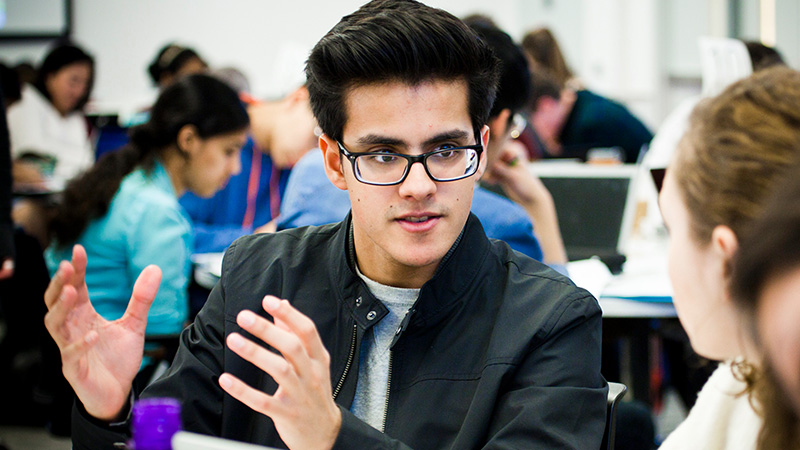 We're sharing exceptional personal statements from last year's applicants in hopes of illustrating that a good personal statement can cover a wide range of topics, but ultimately, showcases the student's character, curiosity, and voice. These statements, written by students now enrolled at Emory University, were selected for a multitude of reasons, and we asked our admission staff to share what made each statement stand out.
This is one of a 5-part series on application writing; read Part 1 here, Part 3 here, Part 4 here, and Part 5 here.

QuestBridge 2016 National College Match Application. Write on ONE of the following topics (500 word limit). What do you admire most about your community? What would you improve? (What is QuestBridge?)
Winter is coming. And as the chilly season approaches, my high school will soon be invaded by smoothing…abominable. Lovesick teenagers armed with cheesy posters and grocery store flowers. Because at my school, winter is the harbinger of the Winter Formal Dance.
But as girls secretly gossip as to who they wish to ask them and guys muster up the courage to do so, I spend another year resigning myself to not going. Whenever someone finds out that I'm skipping it, they never assume that it's because I can't afford to. Which is why I am always asked this same question:
"Why not? What are you too poor? Hahaha!"
The only way I can respond is to laugh it off and to make up an excuse. At times like these, however, living in a homogenously wealthy community can get disheartening because of how indelicate the kids here can be. But they aren't simply mean for the sake of being petty, they just don't realize how tactless they are being. Especially since the few less fortunate members of my community hide their situation for fear of being labelled as different. And though hiding the fact that we are poor may seem to work, we're really just avoiding the problem. The problem being that we shouldn't be made to feel ashamed of being poor. And the only way to fix this problem is to better inform our community about our struggles. If we want change, it has to start with us. We have to stop hiding the fact that we are poor because it isn't something to be ashamed of. And by learning our stories and our situations, my community will strive for better understanding and work to be more considerate towards those less fortunate than they are. How do I know this? Because it's already begun.
There has been effort by the less fortunate members of my community to share their stories in person and on social media. I was inspired by this movement and confessed to my own friends about why I never got to the dance. And through this process, I found out how wonderful my community is. Because my friends are all so well-off, they've never seen money to be important. Something that I myself am guilty of. Since I never had enough, I'd always viewed money as something sacred. Which is why I never learned to be generous. But my friends, after I told them my reason, offered my $60 each so that I could go. As one of my friends put it:
"I'd rather spend money on letting you have a good time rather than spending it on myself."
Despite my intention to teach my community, it was I who was humbled. I had never realized how stingy I had been until I was shown generosity. I hope to never again be as unaware as I had thought my community to be. I must be better, because I too am part of my community.
Feedback from Admission Staff
As we read applications, each student has a team of admission staff assigned to their file to review it and assess the student's potential. The staff responsible for this student's file had this to say about the personal statement:
This essay grabbed me from the first line. The recognizable "winter is coming" line becomes even more familiar when the author starts talking about grocery store flowers and the Winter Formal Dance. I thought of my own high school experiences and could immediately picture the gossiping in the halls about last minutes dates and the need for matching corsages. The author quickly turns the essays to a more serious topic, and this is where we really get to know the student.
This essay is all about honesty. Being honest about their background, honest about their relationship with his friends, and honest about their own feelings toward their community. The essays shows growth and reflection. While the simple topic of the essay is essentially not attending a high school dance, it is about so much more. The writing style is a straightforward and simple—in a good way—and it is an edited and polished piece. The author of the essay is reflective about their community and does not try to be anything that they are not. They understand that if they are to expect change with anything, they themselves have to be a part of that change.
My favorite part is the end, when they discuss the importance of generosity and their desire to learn from their community, not just teach it. This student is clearly an active listener and desires for their community to be better. We are happy the author is now a part of our campus community!
Don't hesitate to connect with us by posting a comment to this blog, tweeting us @emoryadmission, or emailing us at admission@emory.edu. We look forward to hearing from you!
Save
Save
Save