Perspective and Experience from a Current Sophomore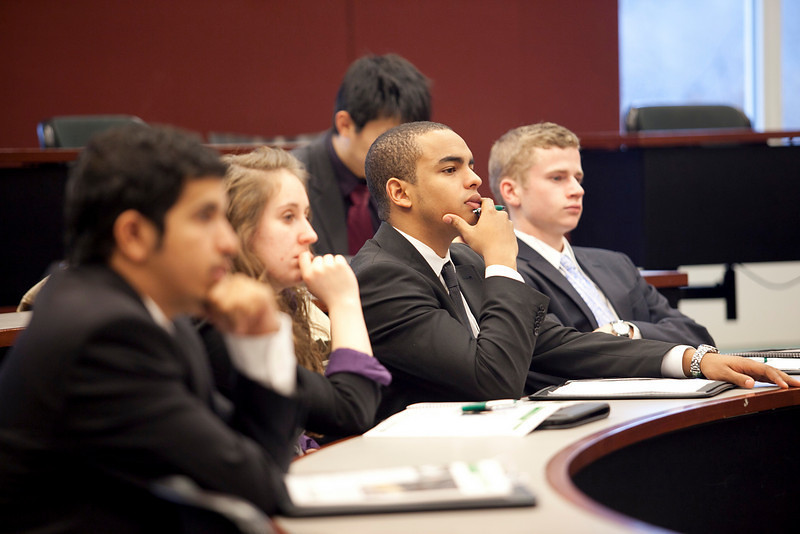 I came to Emory having a good feeling about what I wanted to study here. As a first-year, I knew that I wanted to pursue a degree in business, and knew that Emory has one of the best undergraduate business programs in the country. I was excited at the prospect of getting into Goizueta Business School, (pronounced "goy-swet-ah"). And actually, I just recently found out I've been admitted to the BBA (Bachelor of Business Administration) program through Goizueta's early admittance plan. What you'll read below are some of my insights about the Pre-BBA process.
How and when do you apply to the business school?
Students hoping to study business must apply for entrance to the Goizueta Business School during either the first or second semester of their sophomore year for entrance during either their second semester sophomore year or first semester junior year, respectively. Many students, myself included, opt to apply early for many reasons:
Early entrance allows students an extra semester to complete coursework within the Business School and in Emory College if they want to double major. Many students use the extra semester to study abroad (usually during the fall of their junior year).
Students have an early start to complete the "core" required classes.
There is more flexibility if students want to pursue multiple majors or concentrations (like business and history, or business and creative writing).
That being said though, most students apply for admittance for their junior year, so it's a matter of preference more than anything else.
Wait, I'm not guaranteed admission to the business program?
A lot of people are nervous about applying to the business program for fear they won't be admitted and will have to pursue another major. I had that same fear, but more on that in a minute. Just know that, like the Emory University Office of Admission, the Goizueta Business School looks for reasons to accept students.
While admission to the business school is not guaranteed, students who maintain good grades in the prerequisites and in other classes and who are involved at Emory are typically accepted into the program.
What does the business school look for academically?
The business school likes to see reasonable academic success during your first few semesters at Emory, including successful completion of four prerequisite classes, some of which can be satisfied with AP or IB credit. Students complete an economics course, one Calculus, one statistics, and one in financial accounting. Some students find these classes more difficult than others. But even for a qualitative-minded person like me, they are not only doable but engaging. Students are encouraged to work together in teams, apply principles from class to real-world problems, and solve cases of actual companies.
The prerequisites aren't meant to be a hurdle to overcome but rather are intended to be foundational to a future degree in business. Success in them can foster success in whichever field, inside or outside of business, a student plans to pursue.
What else does the business school look for?
Perhaps of equal importance to the admissions committee is student involvement on campus. Like any admissions committee, they look for quality over quantity. They want to see that you have joined clubs or organizations on campus that demonstrate your passion for something, which is also indicative of your success in the professional world in any field.
It's also important to note that acceptance to the program does not depend on a student declaring business as their major before they even get to Emory. I personally have many friends who thought they wanted to pursue something else when they first got here. Then, after taking a business class as a first-year, they decided they were interested in Goizueta. They have since applied and been admitted to the program.
Admission to the business school is truly a holistic process, just as it is for admission to Emory University. Personally, I felt nervous about my own admission and began brainstorming other areas of study as a backup plan. Many students who don't end up attending Goizueta decide on Economics, International Studies, or any of Emory's other strong programs.
Now that I've received an 'Admit' decision from Goizueta, I feel so excited to start planning a course load and choosing from an array of area depths and concentrations. I'd encourage you to go online and learn more about Emory's undergraduate business program. Check out the Goizueta admission page, find more information on the application process, learn some nuts and bolts about academic requirements, and explore the BBA curriculum.
Regardless of whether you're interested in business or theater, chemistry or women and gender studies, know that there are a wealth of engaging academic and extracurricular opportunities at Emory relevant to your interests.

Grace Cleland 18B*
Bachelor of Business Administration, Strategy & Management Consulting and Marketing
Washington, D.C.
*Emory University uses these abbreviations to designate graduation year. For example, Grace will graduate in 2018 with a degree from the Emory University Goizueta Business School.
Don't hesitate to connect with us by posting a comment to this blog, tweeting us @emoryadmission, or emailing us at admission@emory.edu. We look forward to hearing from you!