Strong Personal Statements, Part 3: Convey Your Qualities Through Achievement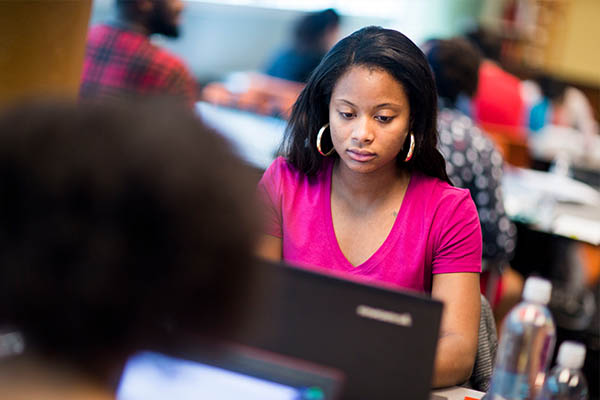 We're sharing exceptional personal statements from last year's applicants to illustrate that a good personal statement can be on a variety of topics, but ultimately, showcases the student's character, curiosity, and voice. These statements, written by students now enrolled at Emory University, were selected for a multitude of reasons, and we asked our admission staff to share what made each statement stand out.
This is one of a 5-part series on application writing; read Part 1 here, Part 2 here, Part 4 here, and Part 5 here.
Share an essay on any topic of your choice. It can be one you've already written, one that responds to a different prompt, or one of your own design.
It was pitch black outside, so dark I could not see further than the fingers on my outstretched arm. I was muddy, sweaty, and mentally and physically drained after what felt like an eternity in a remote Israeli Defense Force (IDF) Training Camp.
A few days earlier, I had embarked on a weeklong IDF basic training program. I was the only girl from my travel group who elected to participate in the same basic training that Israeli high school students are required to attend.
Throughout the training, I endured strenuous exercises in the intense summer heat. I will never forget the voice of my commander yelling "Chakshev! Chakshev!" I had to learn the meaning of the Hebrew commands to avoid punishment.
Two days and 75 disciplinary pushups later, I realized that "chakshev" meant to stand at attention. It is the command to stand tall, arms behind your back, heels clicking, and toes pointing out. Now this may not sound difficult, but if any part of my body was not precisely in position, I was sent back to the ground for more push-ups. At the end of each day, I would lay in the hot and humid barracks with an ache in my lower back from failure to perfectly execute "chakshev."
The language barrier, although a great challenge throughout the experience, proved to be one of the most rewarding aspects. While it flustered me at times, it also encouraged me to push past my comfort zone and learn more Hebrew words so that I could communicate with my peers and commander more successfully.
Towards the end of the program, my "mehfahked" (commander), informed my "chet" (training group), that we would embark on a simulated special operations mission in the wooded hills of Northern Israel.
On the mission, I learned to be resourceful by disguising myself with mud and dirt. I learned to dodge dummy grenades and army crawl through rocks and shrubs. Most importantly, I learned that if this "city girl" put her mind to something, she could successfully complete the task at hand.
I'm not going to hide the fact that this training pushed me to my breaking point. I was exhausted, confused, bruised, and placed in an unfamiliar community. However, the lessons I learned will help me to work collaboratively towards common goals and live comfortably with people from different backgrounds.
I was surprised when I was honored as the best soldier in my "chet" (training group) since I was repeatedly disciplined. I realized, however, that there are many degrees of strength and success. In the IDF program, strength was not only toned arms (which I obviously earned from all of the pushups), but also the deepened mental strength to overcome the discomforts of the wooded hills—the bugs, the mud, and the Middle Eastern heat. Success was overcoming a language barrier and adapting to a new culture to help the team work together towards completion of the mission.
When I returned home and shared the experience with my family, I was taken aback by their surprised reactions that I was able to complete the IDF program in its entirety and live to tell the tale. It was a tale of triumph and defeat, a tale of success and shortcomings. Most importantly, however, it was a tale that will constantly remind me of the differing perspectives I will encounter in school and beyond. I learned that failure in my own eyes might simultaneously be viewed as effort and success in a superior's eyes. In school, success to me will be measured by my drive to overcome challenges, collaborate with peers and integrate into new communities. So just like I ventured into the pitch-black darkness of the wooded hills in Northern Israel, I will venture forward into my unknown future using the lessons I learned on this program—including to always bring a flashlight.
Feedback from Admission Staff
As we read applications, each student has a team of admission staff assigned to their file to review it and assess the student's potential. The staff responsible for this student's file had this to say about the personal statement:
We hear from so many students that writers block is real when it comes to writing college essays. I can appreciate how overwhelming it may seem to share a glimpse of yourself to a perfect stranger in mere words. However, may you feel comfort that I for one fully enjoy getting lost in your stories. How you see the world around you, from the complex to life's everyday simplicity with the lens of youth on your side. We learn so much about your generation and from each of you from reading your essays and letters of recommendations from around the globe. Thank you for sharing them with us!
When I was asked to provide feedback on a student's personal statement for the blog I found it challenging to speak about the essay (just 1 out of 3) without the full humanity of the student.
So please bear with me as I try to encapsulate what stood out to me in reading this student's essay. May it give you the confidence you need to share your story with us.
Be confident that your experience in this life to date is only the beginning of your journey.
As you write your story think about sharing the differentiators – what was the before, during, and/or after of your experience.
Never fear your opinion on a matter, but highlight perhaps where this opinion stems from. Never stay on the surface of your thoughts, reality and truth lies much deeper.
Incorporate something learned and what was transformed because of this. If the learning or new knowledge was uncomfortable or just wasn't "you" – tell us about it.
Stand proud of your truth, and if this doesn't satisfy you then discuss what steps you want to take make a change.
Regardless of what you chose to write about or what the final admission decision, know that your words have been honored and respected by our staff.
Don't hesitate to connect with us by posting a comment to this blog, tweeting us @emoryadmission, or emailing us at admission@emory.edu. We look forward to hearing from you!