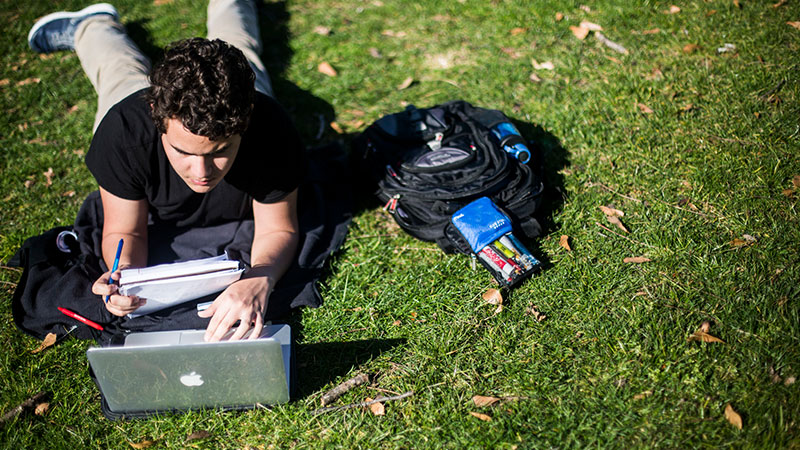 We're sharing exceptional personal statements from last year's applicants in hopes of illustrating that a good personal statement can cover a wide range of topics, but ultimately, showcases the student's character, curiosity, and voice. These statements, written by students now enrolled at Emory University, were selected for a multitude of reasons, and we asked our admission staff to share what made each statement stand out. This is number 2 of a 5-part series on application writing; read Part 1 here, Part 3 here, Part 4 here, and Part 5 here.

The lessons we take from failure can be fundamental to later success. Recount an incident or time when you experienced failure. How did it affect you, and what did you learn from the experience?
Befriending the Beast
Miss Linda's living room. It was the lair of a black dragon, an uncontrollable beast that humiliated all who dared to cross its path. Yet, week after week, I would journey into its cave, sit before its gaping mouth, place my fingers on it white, daunting teeth, and wait for the torture to begin—my piano lesson.
Despite my parents' threats and bribery, I didn't want to play. I loathed every minute I sat on the piano bench struggling through scales, arpeggios, and yet another piece. Most of all, I hated the fact that I felt like an utter failure.
So I quit. Fed up with my constant begging and screaming, my parents stopped forcing me into the lair of the beast, but not without reminding me that I was throwing away something truly valuable. They were, of course, correct.
As a condition of quitting lessons, I agreed to continue playing on my own. I would occasionally sit down at the piano—just often enough to appease my parents—and play simple, fun songs that kept the music in my fingers but didn't challenge me. Nothing more.
A few years later, a family friend requested that I give her daughter, Grace, a few lessons. I had no interest in subjecting anyone else to drudgery of piano lessons, but I was eager to earn some cash. I reluctantly agreed. Surprisingly, I found myself looking forward to giving Grace a lesson each week and eagerly selecting pieces she might like to learn. I truly began to regret quitting my own piano lessons. I started playing the piano more and more often and selecting more complex pieces, not just for Grace but also for myself. I didn't see the instrument as a horrifying dragon anymore but as an outlet for my emotions and a source of pleasure, I happily began to rebuild my repertoire and improve my technique, working through the hard parts this time and realizing that the hard work only made me better.
As the months went on, I wanted to share my newfound passion with others besides Grace. I wanted to share music with kids who didn't necessarily have the opportunity for lessons, so I started a piano program at an inner-city school in Dayton—three miles and a world away from my safe, comfortable upbringing. Each week, I volunteer and give private piano lessons to four girls at the school, each from a different cultural background.
On the first day of the lessons, my students tentatively placed their small fingers on the keyboard I had brought with me. I nervously watched as wide grins spread across their faces.
That was over a year ago. The girls still look forward to their weekly lessons in Miss Elizabeth's piano room, and I look forward to seeing them and the joy they get from the same activity that had once brought me such misery. To them, music is a privilege, but its really my privilege to be their teacher. I've also become their mentor, someone they come to with their second-grade problems and look to for encouragement and answers. I'm a familiar face at their school, and I love the sheepish smiles and random hugs I receive as I walk down the halls. There will surely be even more hugs this year as another teenage teacher and more students join the program.
Ultimately, failure is really about success. Playing the piano has taught me that anything worth having requires hard work and humility. It takes courage and creativity to make the most of the opportunities that failure brings. Truly sharing yourself and your experiences with others is the key to bridging great differences—age, economics, culture—and changing not only someone else's life but also your own. Never again will I pass up an opportunity to learn more, do more, or be more than I already am.
Feedback from Admission Staff
As we read applications, every student has a team of admission staff assigned to their file to thoroughly review it and assess the student's potential. The staff responsible for this student's file had this to say about her personal statement:
I enjoyed this essay because I was hooked by the end of the second line. And I don't just mean because I was intrigued by the subject of her first sentences, but because the student smartly uses the writing tool of a creative hook to captivate her audience, something I was impressed by and do not often see in application essays.
Instead of viewing the essay as a conservative space to share her successes as a student, Elisabeth takes a more creative approach and uses the space to tell a story. Also, her imagery and her tone paint a very clear picture: you can envision her at a piano or arguing with her parents. I like to see students capitalize on the writing techniques they know.
Also, this essay is also very honest. People could read her piece and ask, "Why would she tell an admission counselor how much she hated playing the piano? Doesn't that put her in a negative light?" By being honest about her dislike of piano playing, she reveals she will tell the truth even when covering up the truth may seem easier or the more popular choice.
Through her essay, I learned something about the applicant that wouldn't have come through any other part of the application—her commitment to taking ownership of her feelings regardless of what others may think. You're left thinking how our campus community could benefit from having such a person here in the classroom and involved.
Don't forget to read Part 1 here, Part 3 here, Part 4 here, and Part 5 here.

Don't hesitate to connect with us by posting a comment to this blog, tweeting us @emoryadmission, or emailing us at admission@emory.edu. We look forward to hearing from you!
Save
Save
Save
Save
Save
Save
Save
Save
Save