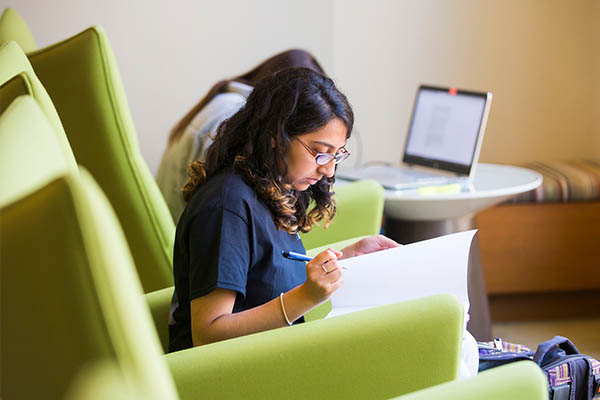 This year, Emory is truly test optional. All applicants for the Class of 2025 have the option to submit their test scores (or not). We encourage you to read through all of the information provided here before you decide whether (or not) to submit scores when you apply.
Read the original blog post from June 2020
Summary of our test policy this year:
Submitting standardized test scores is completely optional.
Students will not have to justify or disclose why they are not submitting scores.
Students will not be disadvantaged in the review process if they do not submit scores.
For students who choose to submit scores, Emory will superscore the ACT. We will continue to superscore the SAT. The ACT superscore policy is for this year and future application years.
Who does the policy apply to?
First-year students who apply to start school in Fall 2021.
Both entry points of Emory University: Emory College of Arts and Sciences and Oxford College.
All decision plans: Early Decision I, Early Decision II, and Regular Decision.
All applicants under consideration or included in any of Emory's Scholar Programs, including awards for full and partial scholarships.
How will Emory review applications without test scores?
For many years, test scores have not been a large part of our Holistic Application Review process. This year we will simply take the review a step further. We will lean more heavily on other application materials, including personal statements, short answer questions, letters of recommendation, the high school transcript, and, where available, alumni interview feedback.
We will continue to look for students who have:
Taken challenging classes in the context of their high school and done well in them.
Pursued outside-of-class educational, volunteer, or work opportunities where available and in light of Covid-19.
Authentically shared of themselves through their application personal statements and short answer questions.
What if I change my mind after I've submitted?
If an applicant changes their mind about submitting their test scores, they may update their choice in their Emory applicant portal. The deadlines for those changes are based on decision plan and provided via email and in their applicant portal. The deadlines for submission were created to allow as much time as possible to adjust their choices in consideration of our committee review timeline.
How will scores be used if I submit them?
As in prior years, we believe standardized test scores demonstrate academic preparation. If you choose to submit scores, we will view them within the context of your application. We will continue to superscore the SAT and, this year and in future years, we will also superscore the ACT. We accept both self-reported and official scores.
Will Emory stay test optional?
At this point, a final decision has not been made. Emory is taking this year as an opportunity to re-examine its selection process, study indicators of academic promise, and assess how we can further advance equity and access. We continue to be committed to the thoughtful, student-centered practices that have guided our work for decades.
Don't hesitate to connect with us by posting a comment to this blog, tweeting us @emoryadmission, or emailing us at admission@emory.edu. We look forward to hearing from you!