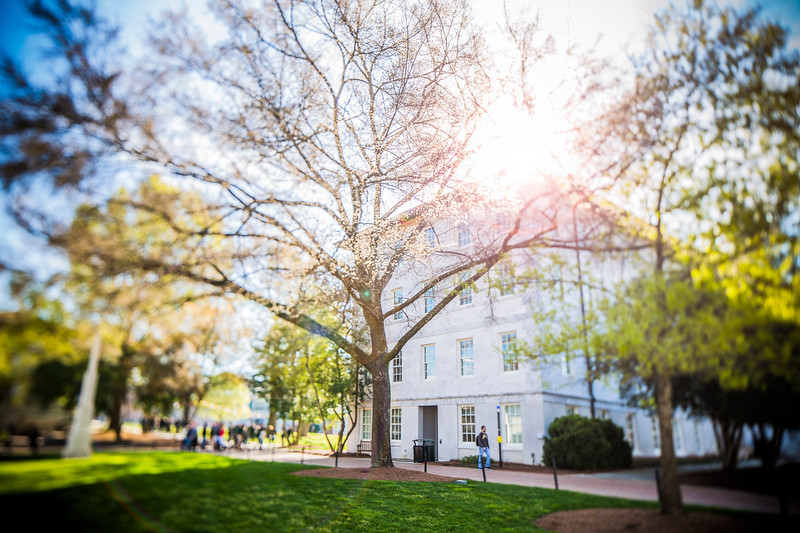 The global Coronavirus pandemic has led to the cancellation or delay of many SAT and ACT testing dates this year. We also recognize that the upcoming academic year is unpredictable for many students and families. For these extraordinary reasons, Emory University will not require standardized tests for applicants in the 2020-2021 year. This policy applies to both entry points of Emory University, Emory College of Arts and Sciences and Oxford College, all decision plans (both Early Decision rounds and Regular Decision), and all merit scholarship consideration (including membership in any of Emory's Scholar Programs). 
The Office of Admission remains committed to a holistic application review that relies on an experienced committee of admission staff and faculty. As always, the admission committee will make decisions with the best information available and with as much flexibility as possible to consider applicants from all backgrounds and experiences.  
Summary of Emory University's test policy for the 2020-2021 application:
Submitting standardized test scores is completely optional.

 

Students will not have to justify or disclose why they are not submitting scores.

 

Students will not be disadvantaged in the review process if they do not submit scores.

 

For students who choose to submit scores, Emory will

 

superscore

 

the ACT. We will continue to 

superscore

the SAT. The

 ACT

 

superscor

e

 policy is for this year and future application years.

 
Further explanation of these policies and our reasoning behind them is provided below. 
Students who have taken or plan to take the SAT or ACT
We anticipate that many students took the SAT and/or ACT prior to the Coronavirus disruptions or will choose to take a test this fall. Emory will continue to accept self-reported test scores, and these scores will be reviewed in the context of the student's application. We expect that standardized test scores will continue to demonstrate academic preparation. 
Additionally, while we have superscored the SAT for many years, this year we will now superscore the ACT as well. For the SAT, Emory considers the highest section scores across all test attempts submitted. For the ACT, the four best subject scores from all test attempts will be averaged to reach the highest composite score. A student's application is updated each time we receive new scores from either the SAT or the ACT. 
That being said, the most important part of a student's application is the high school transcript. We typically look for students who've taken more challenging classes (which can vary from high school to high school, and we take that into account) and have done well in them. Know that if a student elects to have us look at their test scores, lower scores can be overcome by good grades in academically rigorous courses. But low grades rarely, if ever, can be overcome by high test scores.

Students who have taken a test, or more than one test, but prefer that we not look at those scores can make that choice. 
Students who are unable to take the SAT or ACT
We are keenly aware of the fluid nature of the current global context. There are many uncertainties around test availability and access, along with the general stress of these uncertain times. Students will not have to justify their reasons for not submitting test scores, and we will continue to partner with applicants and their advocates to understand each applicant's unique circumstances. Students will not be disadvantaged in the review process if they do not submit a standardized test score. 
While test scores have long been part of Emory's evaluation process, these tests represent only one component in the comprehensive review process. The admission committee also looks at an applicant's personal statements, short answer questions, letters of recommendation, high school transcript, and, where available, feedback from the Alumni Interview Program. 
In the absence of test scores, the admission committee will lean even more heavily on other application materials. We will continue to look for students who have:   
Taken challenging

 

classes in the context of their high school and done well in them. 

 

Pursued outside-of-class educational, volunteer, or work opportunities.

 

Authentically shared of themselves through their application personal statements

 and

 short answer questions.

 
In essence, in the absence of test scores, we encourage students to demonstrate in other ways what they are interested in, what they are committed to inside and outside of class, and that they are prepared for the academic rigor of an Emory education. 
Looking ahead
With this change, Emory is taking this year as an opportunity to re-examine its selection process, to study indicators of academic promise, and to assess how we can further advance equity, access,  and the diversity of our extraordinary student community. We continue to be committed to the thoughtful, student-centered practices that have guided our work for decades. Our duty to both the university and to our students continues to be the discovery of talent, diverse perspectives, and energy for learning and contributing in this vibrant intellectual community.  A student's full potential is the joy we seek to understand each year. 
Helpful Resources
Don't hesitate to connect with us by posting a comment to this blog, tweeting us @emoryadmission, or emailing us at admission@emory.edu. We look forward to hearing from you!