What is your position in your fraternity, how did you get there, and what have you learned about yourself and Greek life through the process?
I'm currently the Chapter President of Sigma Phi Epsilon but before that I served on the executive board as Vice President of Recruitment. Through my time in the fraternity, I've learned that Greek life isn't like the bad things you see in movies but instead, revolves around brotherhood/sisterhood, service, and philanthropy. I've developed a passion for leadership development through my involvement in Greek life and learned that if you work hard towards a goal, you can accomplish anything. Being in Greek Life has been a truly rewarding experience, and I have greatly enjoyed having it as a part of my Emory experience. Interestingly, about 25% of the Emory campus is involved in Greek life—so enough to feel a part of something bigger than yourself but not necessarily something all students feel like they have to be a part of.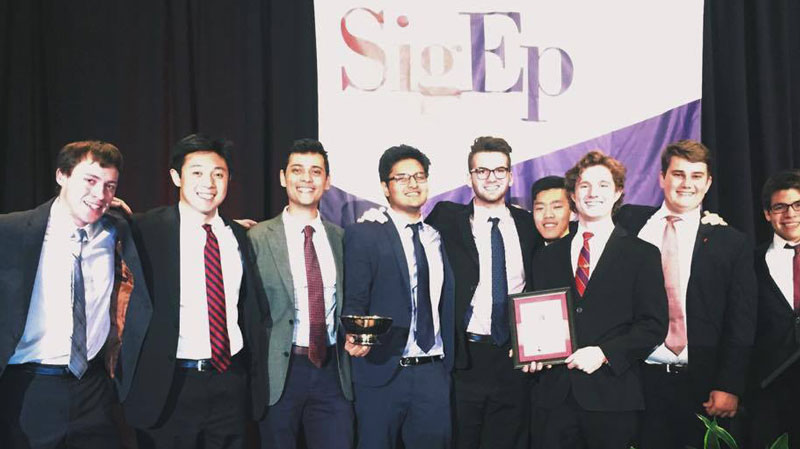 How has Residence Life impacted your Emory experience? What do you love about being an RA?
Residence Life has been one of my favorite experiences so far. As an RA, I love listening to my residents talk about experiences and backgrounds. Coming into Residence Life, I expected to give more than I took, but I ended up learning so much not only about my residents but also about myself. Res Life helped me gain real life skills such as communication, organization, event planning, and time management. Besides helping me both personally and professionally, it's allowed me to make friendships that will last a lifetime.
How has being from Dubai enhanced your Emory experience?
Besides having people ask me if I've ridden a camel? I think not being from America has made Emory a lot more fun. It's funny to see other people's reactions when I say things like lift instead of elevator. It's also made me a lot more independent because my family lives so far away. If you ask me where home is for me, I'd reply Emory because I feel a sense of belonging to this campus.
What are you studying, and what do you want to pursue after your time at Emory?
I'm studying Economics with a specialization in Business Policy. After Emory I hope to go into Management Consulting. I'm also interested in sustainability and finding solutions to utilize resources better whilst taking care of the environment. Eventually I want to go into leadership development because I'm passionate about it. Emory's given me a lot of the tools to find my interests and how to best pursue them.
Dream Job?
Leadership Consultant.
Favorite Study Spot?
My room.
Favorite Emory tradition?
Songfest.

Daivik Malhotra, 17C
Dubai, UAE
Economics
Don't hesitate to connect with us by posting a comment to this blog, tweeting us @emoryadmission, or emailing us at admission@emory.edu. We look forward to hearing from you!