A Community of Support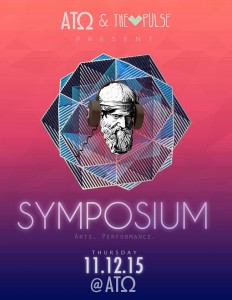 This is the third in a 3-part series—See Part 1 and Part 2.
With all of the arts groups we've covered this week, there are some great opportunities to be involved in as a student. But what if you don't feel like you're a stellar painter? Or the thought of getting up on stage to sing is not for you?
Do you love to see others thrive in their element as an artist? Then supporting the arts in that way is still a powerful way to be involved on campus. Read on to find out what this looks like at Emory.
What is The Pulse and how are you involved with it?
The goal of The Pulse has always been to support the arts and encourage students to appreciate and practice the arts, no matter their major or career path. Previously, The Pulse was an organization that published a yearly anthology of undergraduate student work including written and visual arts. It also hosted a student reading series called Black Dog, but had no other events. Last year (2014–2015), The Pulse began to expand its events as a response to some of the cuts the College was making in some arts programming offerings. I joined The Pulse then as its first Events Coordinator. Our first large event was Symposium, which was in collaboration with the Alpha Tau Omega fraternity to mingle the Greek and arts communities through performance and visual arts. The event hosted 20 student performance acts and about 20 student visual artists. Over 300 students attended, which was a phenomenal turnout for our first attempt at a big event.
Later in the year we hosted two more similar events. As we became better known, the attendance at our reading series increased from an average of fifteen people to an average of over forty people. We hosted different events—another huge one (with over 200 people in attendance who consumed nearly 30 pizzas) was a student stand up comedy night done in conjunction with Emory's satire magazine, The Spoke. We have collaborated with the Emory Neuroscience Association for a student reading series about creative writing and neurology. We have also held pop-up painting and pop-up readings in Asbury Circle on campus.
This year, we are continuing to expand so that any student can delve into the arts. We are working on making our website a place where content is published frequently by students about anything relating to arts on or off campus. We have a new performance series for musicians in addition to the Black Dog reading series, too. And we are hosting our third Symposium with Alpha Tau Omega. We are also co-hosting Emory's first themed student art gallery with the Emory Arts Club. Any undergraduate student can join one of our five committees (Events, Performance Series, Marketing/Design, Genre Editor for the Anthology, Visual Arts Editor for the Anthology) to become a part of The Pulse—we have over fifty members total between all of our committees (an exponential increase from our tiny 7-person executive board of Fall 2014).
I have been president since the Spring 2015 semester, and seeing The Pulse grow has been amazing! I love being part of an organization that encourages students to express themselves in performance, written, and visual arts—seeing the community come together (whether it's to participate in an event or to attend) makes me so happy. People are always so amazed by what their peers can do, and I am proud to be part of an organization that helps showcase the talent of Emory students.
What is the MLAO house, and how are you involved with it?
The MLAO house (or "Media, Literature, and Arts Outreach") is one of the new themed residence halls as part of a pilot program Emory is doing this year. An application opened for themed housing to the student body last year. A member of Media Council (which oversees all student publications) reached out to the rest of the media groups asking if anyone would be interested in a media house. This person is a close friend of mine, and I replied saying I was very interested in the idea. I was a Sophomore Advisor in Longstreet-Means Residence Hall at the time, so I was relatively familiar with Residence Life applications and agreed to assist with the application. We had a few weeks to gather a roster, write an application, and give a presentation about why our theme would benefit campus and why it needed a house. I used the response of the Emory community to events put on by The Pulse and other organizations like the Emory Arts Club, The Spoke, and 404 Magazine as supplemental data to illustrate why a single space was needed for these organizations to foster growth. The theme was chosen, and now I am the Resident Advisor and a Co-Lead of the house.
Beyond typical RA duties, my involvement centers on making this house part of campus. I help plan events and serve as a liaison to any organizations that wish to host events within the house. By the end of October, MLAO will have hosted events, meetings, and information sessions for over ten different organizations, offices, and departments. It has Open Mics in collaboration with Literature is Alive at Emory every other Wednesday (with a free raffle) and painting hosted by the Emory Arts Club every Friday. We have hosted two large art galleries (one of which is the themed gallery I mentioned earlier). This gallery has doubled the amount of artists showcasing at it as compared to any other student gallery ever at Emory. Also during Family Weekend, MLAO spopnsored Emory's first Student Arts Fair, where students were able to sell their original work during the Best of Emory performances on McDonough Field, which I am super excited about!
Besides organizing events, I make sure that these events meet the initial learning outcomes that were created. My co-lead and I hope that MLAO will become a center for the arts at Emory, so that any student who wants to engage in the arts can find like-minded individuals.
In the past months, what I have found special about MLAO are the unplanned events—sometimes I will walk into the house and a resident will be sprawled in the entry room painting a canvas almost as big as I am, playing music, hanging out with friends. Or two residents will play the piano in the house and sing together when they have a free moment. At one of our opening events, an unplanned rap cypher started in the basement. This house fosters creativity, and I love this space.
What is your favorite part about being involved with the arts at Emory?
My favorite part is undoubtedly the community. I have made friendships through The Pulse, MLAO, and the events we have hosted that are so incredibly dear to me. I love meeting passionate and creative people, and the arts community is full of them. Additionally, I love supporting both an organization and a space that encourage people to delve into art no matter their major or career path and thus confront students with the emotions, intelligence, and honesty that is grounded in artistic expression throughout all cultures and mediums.


Juliana Bonovich, 17C
English and Creative Writing
Sunnyvale, CA
Don't hesitate to connect with us by posting a comment to this blog, tweeting us @emoryadmission, or emailing us at admission@emory.edu. We look forward to hearing from you!