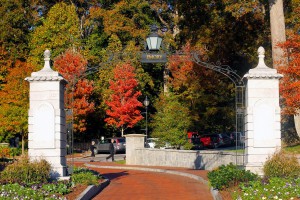 Fall has arrived and that means many of you are knee deep in the college search and application process. Autumn is a great time to visit college campuses. If you haven't had the chance to visit Emory College and Oxford College, we recommend registering for a visit soon. If you're unable to make it to Atlanta, see if one of our admission representatives is coming to your area.
But what if you are unable to connect with us through a campus visit or off-campus event in your area? Don't fret, there are still numerous ways you can get to know us better. In fact, we came up with 8 different ways to explore us virtually (because a top 10 list is just cliché):
First stop has to be the Undergraduate Admission website. You can learn more about Emory and Oxford under the Discover tab, and when you are ready to submit an application, visit the Apply tab for all the important details.
Instagram! If you are not following @emoryadmission on Instagram you are missing out. Admission representatives along with a team of current students are providing a unique snapshot on life at Emory. Add these Instagram feeds as well: @emoryuniversity, @oxfordcollege, and @emorystudents.
Though not as picturesque, we are also on Twitter. Get to know @EmoryAdmission in 140 characters daily. If you like to follow hashtags check out #Emory2020, #IAMEMORY, and #WhyEmory.
If moving pictures are more your thing, then you check out Emory Undergraduate Admission's Vimeo page. The videos on this page are all created, filmed, produced, and edited by an amazing team of current students. Check out the newest Emory Shorts. (If YouTube is more your thing, then visit the Emory Admission playlist for 100+ videos.)
While promoting video content, we can't resist recommending the best video under 3 minutes to get an overview of Emory University.
We know that searching and connecting with colleges on Facebook is so three years ago, but if you are still into that thing make sure to like our Emory University – Undergraduate Admission page.
A great place to keep up with current events at Emory University and learn more about the heart of our institution is through the Emory News Center. A recent visit to this news hub had featured stories about President Carter's Town Hall, an Emory doctoral student composing for the Pope, and the Emory community continuing its commitment to sustainability.
Still don't have enough information about Emory University? Well then make sure to add yourself to our mailing list, and check out online versions of our publications.
We hope these resources help you get a better understanding of Emory College and Oxford College. Don't hesitate to connect with us by posting a comment to this blog, tweeting us @emoryadmission, or emailing us at admission@emory.edu. We look forward to hearing from you!