I was doing an evening program for Emory University in Connecticut last week and found myself answering questions about that mysterious part of the Southeastern region known as the "Deep South" and Georgia's own culture as a state located right in the center of that region. If people have never visited the Southeast, they may expect a homogenous culture with a few stereotypes thrown in for good measure (cue the trash-strewn trailer parks and desolate farms often seen in movies) surrounding the progressive and multi-cultured city of Atlanta. One of my happiest responsibilities these days is telling people how much more there is to the state of Georgia, which encompasses gorgeous mountain towns, historic cities, and breathtaking island beaches, all within just a few hours of Atlanta. We like to think that all of this and more is what inspired so many to sing about Georgia being on their minds.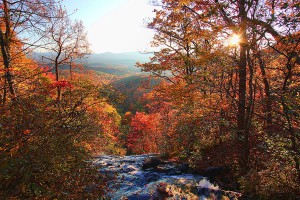 One of our best small towns in the mountain region is Ellijay, which was featured in the most recent Garden & Gun as one the top "ten sweet and soulful Southern hideaways" and lies only an hour and twenty minutes north of Atlanta. Replete with unique boutique-style retail, charming B&B's, and locally-owned restaurants emphasizing farm-to-table meals, Ellijay won't take long to give you a sense of contentment and ease. The Garden & Gun article talks at length about all of the outdoor activities available in the area, from hiking to kayaking and tubing, but don't leave without checking out the Whistle Tree Pottery Shop, where you can watch artists throw the pottery that will eventually appear on the shelves for customers to paint. Also, grab a meal at the Martyn House, which offers great coffee and free concerts. And if you are looking for another great mountain town with a larger variety of restaurant and retail options, Blue Ridge is just 20 minutes north of Ellijay and has its own outdoor recreation and beautiful views.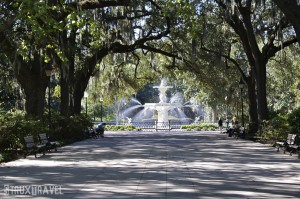 Savannah, just three and a half hours from Atlanta, has just as much to offer as Atlanta in the way of Southern hospitality and far more in the way of historic architecture. In fact, Savannah's entire downtown area is considered a National Historic Landmark, one of the largest landmarks in the country. While you're there, be sure to check out the Bonaventure Cemetery, renowned for its beautiful statues and monuments. It may look familiar if you've seen or read Midnight in the Garden of Good and Evil, which was set in Savannah and used one of the cemetery's iconic monuments as a front cover. Your visit should also include Forsyth Park in the historic district, interspersed with massive Spanish moss-clad oaks, and Leopold's Ice Cream, the city's favorite ice cream parlor (Founded by the three Leopold brothers who immigrated from Greece, the shop is now owned and run by a son, Stratton Leopold. Stratton is perhaps better known today for producing many Hollywood blockbusters, including Mission Impossible 3 and The General's Daughter).
If you think Florida has the best and only beaches in the Southeast, then you haven't visited Georgia's Golden Isles, just four and a half hours from Atlanta. Made up of a cluster of four barrier islands off the coast of Brunswick, Georgia, the Golden Isles are among Georgia's best-kept secrets. For a more "developed" island experience with retail and restaurants and a scenic lighthouse (of course), there is Saint Simon's Island. You can find some of the best steak around at Bennie's Red Barn, and be sure to head down to the Pier Village to catch the sunset and watch the local fishermen pull in everything from crabs to sharks and sting-rays. For a nature preserve and historic island experience, there is no place better than Jekyll Island, my personal favorite. You can take tours and even stay in the historic Jekyll Island Club, originally built in 1886 by a group of U.S. millionaires who valued the island's privacy and used the club as a winter retreat. Stringent nature preservation acts have maintained the scenic beauty of the island and its wildlife. Make sure to visit the Georgia Sea Turtle Center and take its Turtle Egg Tours through the Jekyll dunes. Meals can be had at several restaurants across the island, but my top recommendations are Latitudes 31, which offers panoramic views of the famous Marshes of Glynn, and the Courtyard at Crane, which is part of the historic district and housed in one of the original millionaire's cottages.
If you are in the state of Georgia, we hope you get to know some of our great neighboring towns and cities. We have no doubt you'll come to love them as much as we do. If you're in Atlanta visiting Emory University this month, then we hope you'll have a little bit of time to get to know our home city. Below are a few events happening in June to make your visit even more memorable!
"Summerfest" in Virginia-Highland. Saturday, June 6 – Sunday, June 7.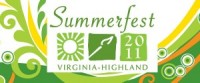 This is hands down my favorite festival of the summer! There is something for everyone throughout this weekend extravaganza—artist markets, live music, and food and drink aplenty. The main music stage is in John Howell Park. But I'll let you in on a resident secret – the live music actually starts on Friday, June 6th at 8PM (till 11PM) with the Acoustic Street Party Concert, located at the Virginia-Highland Island (main street intersection next to Murphy's), featuring some local groups as well as widely known musicians. Restaurants located around the Island, including Murphy's, La Tavola, and Taco Mac, extend their outdoor seating up to the stage so you can enjoy the music while you eat. Parking is always a bit of a challenge (getting familiar with those free neighborhood streets, like Orme Circle and Amsterdam, is a good move). But if you're up for biking to the festival, Summerfest is partnering with the Atlanta Bicycle Coalition on Saturday and Sunday to offer free, secure bike valet parking at the Virginia-Highland Church. You can also use MARTA to get the festival.
"The Belmont Stakes" at Belmont Park, New York. Saturday, June 6.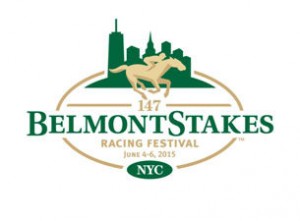 Ok, so technically not taking place in Atlanta but I would be remiss if I did not encourage you to take a break from whatever you are doing on Saturday evening to watch the final leg of the U.S. Triple Crown because you might get to see history being made! For those that did not see the Kentucky Derby or the Preakness, we have a new Triple Crown contender this year in American Pharoah, who is the current favorite for the Belmont (If you haven't already heard the story, the misspelling of pharaoh is purposeful since the name and exact spelling were a result of the owner's social media contest to name his Derby contender). As mentioned in our Derby Day entry, thirteen horses have fallen short of a Triple Crown victory in this very race since the last Triple Crown winner in 1978. Some say they just don't make horses, especially racers, like they used to, but others attribute the dry spell to bad luck and coincidence. The only way to pick a side is to watch the race and see what happens this year. The race is tentatively slated to start at 6:30PM on Saturday, June 6th and you don't want to miss it!
"The Fox Theatre Block Party" at the Fox Theatre. Sunday, June 7.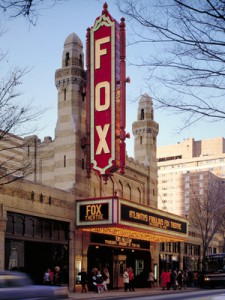 This event is being hosted by the Fox as a "Thank You!" to the entire city of Atlanta for supporting the arts and making sure the Fox stays open for future generations. For those that have never been, a visit to the Fox Theater is a must! The Fox Theatre has been an intrinsic part of Atlanta's culture and the city's work to promote the arts since its construction in 1928. It has served many purposes over the last almost 90 years, but this famous building in Midtown has always been lauded for its architecture, character, and hospitality for artists in a variety of industries from all around the world. This theatre is regularly recognized for its excellence in the arts by the likes of Billboard, Pollstar, and Rolling Stone magazines and is consistently ranked as one the top three theatres in North America. It plays host to more than 250 shows and a half a million visitors each year! If you can't make it to the Block Party but still want to see the Fox, you can go on one of the many tours offered through its ballrooms and performance center.
"Tunes from the Tombs" at Oakland Cemetery. Saturday, June 13.

Oakland Cemetery is the oldest cemetery in Atlanta (founded in 1850) and one of the few areas of the city to survive Atlanta's burning during the Civil War. It also stands as one of the most honest depictions of Atlanta's fraught history throughout segregation, war, and progressive rebuilding, all of which can be traced in aspects like the blatant separation of the burial grounds in the older areas of the cemetery, the variety and evolution of tombstones and grave markings, and the multi-generational Atlanta families and prominent city leaders whose grave sites include exquisite statues and fine words in honor of their legacies to the city. It is a hauntingly beautiful place (no pun intended) near the heart of downtown Atlanta. During this particular event, the cemetery will be hosting an all-day music festival, featuring performances throughout its six acres of monuments and gardens. There will be a variety of food trucks and drink vendors throughout the grounds, as well as complimentary tours of the cemetery and fortune-telling.
"Light in the Garden" at the Atlanta Botanical Garden. Available through October.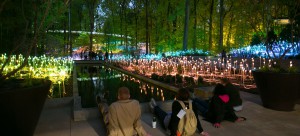 Those who have read some of my previous blog entries know that I love events at the Atlanta Botanical Garden! Whether your thumbs are green or not-at-all-agriculturally inclined, a visit to this gorgeous venue, located at the edge of Piedmont Park in the heart of midtown Atlanta, will always be memorable and fun. This 30-acre plant sanctuary includes rose gardens, an orchid center, an edible garden and bar, the famous Storza woods with its canopy walkway, and much more. There is always an art exhibit or two in the gardens throughout the year as well. Right now the garden is playing host to Bruce Munro's largest light exhibition in the entire Southeast region. It is best viewed at night but day-time visitors can still enjoy a nice stroll through the gardens, which offer some of the best views of the Midtown skyline and surrounding park area.
'Til next month!
Farish Jerman 11C*
Senior Admission Counselor
Emory University
Office of Undergraduate Admission
* Emory uses these abbreviations to designate graduation year. For example, Farish graduated from Emory College of Emory University in 2011.
Don't hesitate to connect with us by posting a comment to this blog, tweeting us @emoryadmission, or emailing us at admission@emory.edu. We look forward to hearing from you!
Picture credit:
http://www2.gibson.com/News-Lifestyle/Features/en-us/spotlight-1114-2010.aspx
http://www.ellijaydeals.com/ellijay-deals-coupons/
http://www.kevinandamanda.com/whatsnew/travel/fall-in-blue-ridge.html
http://beforeitsnews.com/travel/2012/11/top-10-things-to-do-in-savannah-georgia-2447572.html
http://www.historichotels.org/hotels-resorts/jekyll-island-club-hotel/
http://askmissa.com/author/lroberts/
http://www.atlanta-theater.com/theaters/fabulous-fox-theater/theater.php?month=6&year=2015&showNoAvail=true
http://scavengerhuntatl.com/#/shop/4579992876/oakland-cemetery-scavenger-hunt-ticket/6716567
http://atlantabg.org/events-classes/events/bruce-munro-light