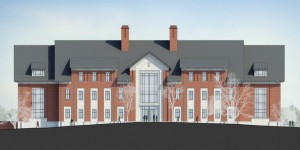 This week's installment of "What's New" is brought to you to Myra Frady, CFO of Oxford College and guru of the newest building going up on campus, the Science Building. We spent a few minutes discussing the building and other exciting developments to the campus' sustainability efforts. Read on to find out what is up and coming at Oxford!
Tell me about the new Science Building. When will it open? What will be in there?
There will be nine teaching laboratories for biology, chemistry, physics, astronomy, and geology along with three labs for research, three classrooms, an imaging center and a greenhouse. Faculty offices will also be in the building, along with private and common study areas, and a large common area, called the "Nucleus", where informal conversations between faculty and students can happen. This new building is going to be able to meet the needs of our outstanding science programs and allow us to grow for years to come.

You can watch live construction of the building here.


What are some of the highlights of the new building?
There will be touchscreens in the front lobby showcasing how the building was constructed for LEED certification. So much of LEED certification is contained in the invisible parts of the building (things like the A/C units, lab chemical hoods, and building construction recycling). Oxford is home to Emory University's first gold LEED certified buildings in the new residence halls that opened fall 2014, and we are hoping to go for gold again!

Read more about Emory University's commitment to going green on our Sustainability Site.

Tell me about the old oak tree that was taken down to build the Science Building.
With great care, we cut down a huge oak tree where the building is now being constructed. We actually sent a slice of the tree to the University of Tennessee for analysis and discovered it was "born" in 1803 – older than our university! Wood from the tree has been repurposed for design elements in the "Nucleus" and will also be used in the design of the donor wall honoring those who contributed financially for this great building's construction.


On a different topic, I recently heard about a new Oxford initiative to reduce Dining Hall waste that started this semester. How is that going?
It couldn't be better! In January, we launched a project to reduce the tons of waste Oxford was sending to the local landfill each week. In the first month, the Dining Hall alone was able to revert over 95% of its waste, sending it to be recycled or composted instead. We've been recycling Dining Hall cooking grease to make fuel for campus shuttles for a while now, but this is taking things to a whole new level. Literally tons of garbage that used to go to our local town landfill isn't anymore.

And speaking of the Dining Hall, we will break ground in fall 2015 for the new Dining Hall that we plan to open in fall 2016. Lots of new and exciting things happening at Oxford that the campus community is very proud of!
Don't hesitate to connect with us by posting a comment to this blog, tweeting us @emoryadmission, or emailing us at admission@emory.edu. We look forward to hearing from you!