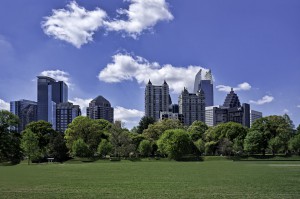 When asked what the city of Atlanta looks like, many a native has responded with something along the lines of, "it looks like a city that got dropped in the middle of the forest." And when you look at aerial pictures of the city, you see that's an apt description. This surprises the people who visit Atlanta knowing only about its concentration of Fortune 500 companies, large collection of universities and colleges, and "notorious" traffic (for what it's worth, and I won't name names, Atlanta traffic is nothing compared to the traffic I have experienced in certain major cities during my time in the Mid-Atlantic).
Instead, prepare to fall in love with our plethora of parks, our tree canopy, and most of all, the eclectic collection of neighborhoods interspersed throughout our city's heart. When you look at the "Intown" Atlanta skyline, you notice that it sprawls from south to north in three separate clusters. At the bottom you have the downtown skyline, which is home to some Fortune 500 companies. It is also home to the famous Westin Hotel which offers the very best panoramic view of the city from its critically acclaimed top floor restaurant, The Sundial. Above that is the Midtown skyline, which is an interesting amalgamation of architecture, including the Art Déco style of the city's tallest building, the Bank of America Plaza, and the Gothic style of one the city's newest and LEED Gold certified buildings, the Symphony Tower. At the top of this Intown group is the Buckhead skyline, which consists of the glittering glass facades of company headquarters and the majestic spires of over fifteen different churches of a variety of faiths.
What connects these clusters of city streets and buildings are those eclectic neighborhoods I mentioned, each with its own personality. Emory University, nestled on the eastern residential side of Atlanta, is flanked by several such neighborhoods, the largest of which is Decatur. Although technically a city in its own right, Decatur has a walkability and colloquial charm that preserve its place as the neighborhood right around the corner, worth visiting for brunch, an evening out, or a scenic walk. It also plays host to a variety of residents, from students attending nearby colleges to growing families, and from generations of native Atlantans to one of the city's largest refugee and immigrant populations.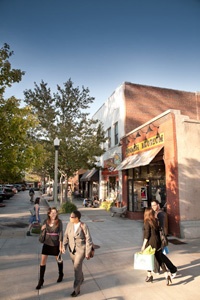 Dubbed "One of the Tastiest Towns in the South" by Southern Living, Decatur's artisan and craft-focused restaurants such as Leon's Full Service and Brick Store Pub punctuate the sidewalks amidst its local coffee shops, like Java Monkey and Dancing Goats. The historic DeKalb County Courthouse casts shade on a quaint town square lined with boutiques and bookstores, complete with a gazebo often used as a stage by local talent. Speaking of the local talent, just a block away from the town square is Eddie's Attic, a small music venue (seating only 165) that has been welcoming aspiring and established musicians to its stage since 1992. Its long list of performers includes John Mayer, Sheryl Crow, and the Indigo Girls (fun fact: both of the latter are Emory alumna!). Don't be afraid to let your stroll through downtown Decatur take you north on Church Street towards the historic, 54-acre Decatur Cemetery, which is actually a decade older than the city of Atlanta itself, dating back to 1823. Beautiful, flower-gilded roadways chase through the trees, streams, and tombstones, making it a favorite walking and jogging destination for locals and tourists alike.
Whether it's your travel plans or purely a yen for better weather that brings you to Atlanta and Emory University this month, we hope you take some time to get to know our neighbors in Decatur. You'll be glad you did! And if you're looking for some events to make your visit even more memorable, we recommend you look below at what's happening around Atlanta.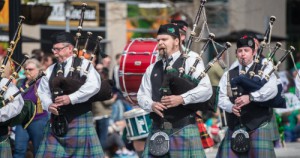 "Atlanta's St. Patrick's Day Parade" in Midtown Atlanta. Saturday, March 14 from 12PM-1:30PM.
Having started in 1858, this parade is one of the oldest in the country, and it includes everything from floats and dancers to bands and bagpipes. There is no charge for attendance and the parade route map outlines where you can enjoy the parade as it makes its way through the city. Whether you're Irish by blood or by nature, we welcome you to celebrate with Atlanta's Irish community, which includes members of The Hibernian Benevolent Society, the Ancient Order of Hibernians, Clan Na NGael, Fire Emerald Society of Metro Atlanta, and the Metro Atlanta Police Emerald Society.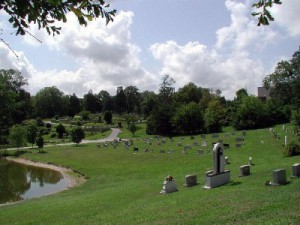 "Decatur Ghost Tour" at the Decatur Cemetery near downtown Decatur. Available year-round.
While you're in downtown Decatur mingling with its living residents, we also encourage you to get to know its no-longer-living but still "very active" residents in the cemetery during the night. Whether you're a history buff or a ghost chaser, you'll enjoy this unique look into Decatur's history and the lives of some of its more prominent citizens.
"The Coca-Cola Bottle Exhibit" at The High Museum* in Midtown Atlanta. Now-October, 2015.
This famous museum, considered the leading art museum in the Southeast, was founded in 1905 as the Atlanta Arts Association. Amidst current exhibitions of Surrealist painters, African Art, and a black and white photo history of the segregation era (just to name a few), you can find a brand-new exhibit celebrating the 100th anniversary of the iconic glass Coca-Cola bottle and the company's impact on Atlanta. Whether or not you drink Coca-Cola as much as we do here in Atlanta and at Emory (fondly nicknamed the "Coke University" in honor of its intertwined history with the Coca-Cola Company), you'll learn something new about this global brand that calls Atlanta home.

'Til next month,
Farish Jerman 11C**
Senior Admission Counselor
Emory University
Office of Undergraduate Admission
*Quick tip—check with your bank about free museum weekends! Almost all banks designate a certain weekend each month during which their clients can gain free admission to Atlanta arts venues by showing their debit or credit card with the bank name.
**
Emory uses these abbreviations to designate graduation year. For example, Farish graduated from Emory College of Emory University in 2011.
  Don't hesitate to connect with us by posting a comment to this blog,
tweeting us @emoryadmission
, or emailing us at
admission@emory.edu
. We look forward to hearing from you!
Photo credits:
http://atlantastpats.com/photo-galleries-2/
http://artsculture.blog.ajc.com/2015/02/03/high-museum-exhibit-to-explore-the-coca-coca-bottle-at-100/
https://beactivedecatur.wordpress.com/tag/earth-day/
http://www.visitdecaturgeorgia.com/index.aspx?page=21