Want to experience an area of Atlanta that's been key to the flourishing "intown" scene? Welcome to Virginia-Highland, arguably Atlanta's most well-known intown neighborhood. While there is debate, even among Atlanta natives, about where the neighborhood's boundary lines stop and start, there's little argument that as Atlanta has continued to grow, this little unassuming neighborhood continues to faithfully embody what is great about this city and life in the South.

I've been looking forward to this entry since I started this blog last October. If you're just joining us for the first time, you should know that this entry comes as Part II of last month's blog, which included a quick explanation of how to visually understand Atlanta's metropolitan sprawl and an introduction to Decatur, one of many delightful, walkable neighborhoods surrounding Emory University. I'm really excited to continue by introducing you to another nearby neighborhood, my home-neighborhood in fact, Virginia-Highland.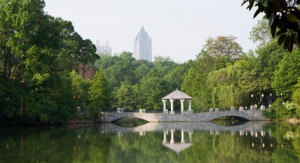 Practically named after the intersection of its two major streets, Virginia Avenue and North Highland Avenue, which make up the center of the neighborhood, this area is considered by many in Atlanta to be where one should spend evenings, weekends, and the rest of life. Honestly, it was really a stroke of luck that I got to grow up in this wonderful pocket of Atlanta, since my parents moved to the area long before it became the "cool" place to be. As a result, I grew up down the street from the largest park in Atlanta, Piedmont Park, around the corner from the start site of the internationally-watched community project, the Atlanta BeltLine, within easy walking distance of Trader Joe's (one of only two in the city!), the local movie theater, and a plethora of non-chain retail shops and restaurants.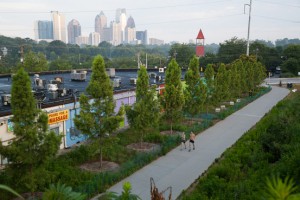 Century-old Craftsman bungalows, huge trees, and sidewalks line streets that wind around parks and local businesses, and that's just the aesthetic appeal. Walking through the neighborhood is an intimate community experience as friends and families fill front porches spilling over with the sounds of music and conversation. Every block brings familiar faces and the latest news. If you fell in love with the eccentric, tight-knit town of Stars Hollow in the hit TV show, Gilmore Girls, then you will understand exactly why the residents of Virginia-Highland love the community and culture of their neighborhood. (If you don't understand this reference at all, you are absolutely missing out. Luckily for you, Gilmore Girls is on Netflix now – say goodbye to your weekend!)
Like the townspeople of Stars Hollow, Virginia-Highlanders are very fond of their community, especially the more unique members. For example, we go all out at Halloween, so much so, that people from other neighborhoods drive to Virginia-Highland to see the elaborate pumpkins carvings and the house-by-house entertainment. One of my more dedicated neighbors dresses up in a hooded cloak and skeletal mask and spends the entire evening playing Rachmaninoff's ominous "Prelude in C Sharp Minor" on the grand piano just inside the entrance to his house. It is absolutely eerie and chilling. When you approach the front door, he slowly picks up an ancient candelabra and hobbles to the door, extending a bowl of candy. Many a kid has fled without even taking the candy or just had a meltdown on the front porch (just goes to show you that Classical music has not lost its touch).
Right around the block from that house is a woman who tells fortunes through her elderly Pomeranian. This little dog tends to give very optimistic or very pragmatic fortunes. Each year I am assured of a subsequent year of adventure, excitement, and success in my endeavors. A few years ago, my friend, who arrived on his competition-style road bike to meet me at the Fortune Teller wearing shorts and t-shirt on one of the coldest Halloweens in recent years, was told he would never live long enough to win the Tour de France if he didn't start dressing appropriately for the weather. Bottom line, that dog knows what's up.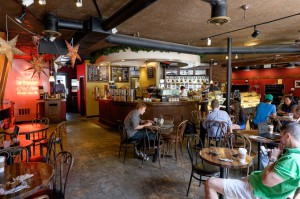 Similar to Decatur, Virginia-Highland is known for "mom and pop" coffee shops. Neighbors will argue about where the best coffee can be found, but my favorite place is San Francisco Coffee, a non-chain that roasts its own coffee and is so popular it has two locations just a mile apart in Virginia-Highland. You can't go wrong with either one, but I am partial to the one on the north end of North Highland Ave., with its walls lined with the work of local artists and its large bay windows open to the street. I've been hanging out there since I was old enough to drink coffee, and if the foot traffic in and out on a daily basis is anything to judge by, it's become a staple in many other lives as well.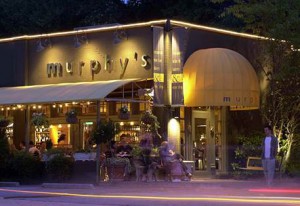 Part of what makes Virginia-Highland so special is the collection of restaurants around the original name-sake intersection, many of which have been around for decades and contribute greatly to the sense of tradition and history in the neighborhood. Although their menus are very different, they are united in their dedication to lots of patio seating, which adds enormously to their attraction, because the only thing we love more than eating great food is enjoying it outdoors in the beautiful weather we are lucky to have the majority of the year. Murphy's is my favorite in terms of food and atmosphere, and although its current location is a few blocks from its quirky, original spot, Murphy's has been a destination point for locals and tourists alike for over 30 years. Right across the intersection is Moe's & Joe's, opened in 1947 by two brothers back from WWII, which continues to serve up diner staples and local favorites to this day. Next door is George's, celebrating its 54th anniversary this year, and widely recognized as offering one of the best burgers in Atlanta.
It probably won't come as a surprise at this point that Virginia-Highland is also home to many of the city's best festivals. We will seriously have a festival in honor of anything and everything – seasons, flowers, fruits, vegetables, holidays, etc. You name it, we probably celebrate it. One of the best festivals, the Dogwood Festival, is taking place this month, so be sure to check it out below. If you are in town visiting Emory University, we hope you'll stop by Virginia-Highland. Your taste buds, ears, and imagination will all be glad you did, because you'll leave with a true sense of how life is lived and loved down here. To make your visit even more memorable, we'd like to share some exciting things happening in the city this month!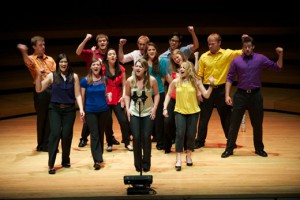 "Barenaked Voices" at Emory University. Friday, April 10, 2015.
Yes, this is an a cappella concert (as implied by the title) but before you dismiss it as something just for a cappella fans, you should know that this is one of the most popular annual events at Emory University. All six undergraduate a cappella groups and the Emory University Concert Choir have been coming together for just one night a year for over a decade to celebrate making music. What's most impressive is that all of this music is arranged, choreographed, and performed by Emory undergraduates from all different academic areas (including, but not limited to, the Arts), all with a love of music. Each group does an individual set, and then they come together to perform a grand finale to a packed concert hall of over 1,100 people. All donations go to supporting Active Minds at Emory and the Emory Helpline. Check out the still-talked-about finale from BNV 2010 featuring Michael Jackson's iconic hit, "Man in the Mirror," (starts at 0:38) arranged, choreographed and performed by Emory undergraduates.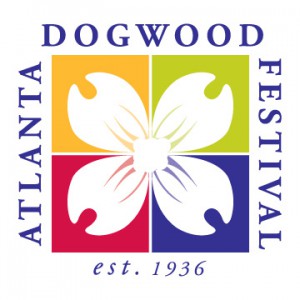 "The Atlanta Dogwood Festival" in Piedmont Park. Friday, April 10-Sunday, April 12, 2015.
This festival, honoring the beautiful blooming Dogwood trees of this season, first started in 1936 as a single-day event of music performances by the likes of the Metropolitan Opera and the Philadelphia Symphony, in an effort to raise awareness and support for the beautification of the city. These days, this famous festival has something for everyone—artist markets, live music, and food & drink aplenty! With two different stages on either side of the park, there is ample opportunity to hear all kinds of music, from local groups to widely known musicians (past performances include famous jazz singer Roberta Flack and famous country music artist Sara Evans). The artist market winds its way around the park with everything from paintings to sculpture, jewelry to clothing, and much more. And let's not forget the food! Whether you're craving carnival food (funnel cake!), hot dogs, BBQ, or farm-to-table meals from the Food Trucks, you'll have no trouble finding something to munch on while you listen to music. I've been going to the Dogwood Festival my whole life, and it never disappoints; so make sure you don't miss it if you're in town that weekend!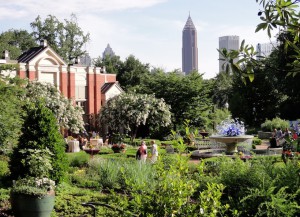 "Atlanta Blooms!" at the Atlanta Botanical Garden. Available all month.
Whether your thumbs are green or not at all agriculturally inclined, a visit to the gorgeous Atlanta Botanical Garden, located at the edge of Piedmont Park in the heart of midtown Atlanta, will always be memorable and fun. This 30-acre plant sanctuary includes rose gardens, an orchid center, an edible garden and bar, the famous Storza woods with its canopy walkway, and much more. There is always an art exhibit or two in the gardens throughout the year as well. Right now the garden is welcoming the arrival of spring with a variety of garden and season-inspired events. You are also welcome to visit outside of events to enjoy a nice stroll through the gardens, which offer some of the best views of the Midtown skyline and surrounding park area.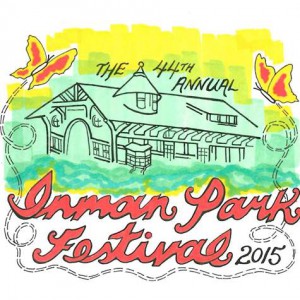 "Inman Park Festival" in Inman Park. Friday, April 24-Sunday, April 26.
As the adage, "When in Rome…" implies, the best way to get to know a city is by doing what the locals do. Well, the Atlanta Journal Constitution just listed this neighborhood festival in "10 Things Every Atlanta Resident Should Do" so you should definitely stop by! Similar to Virginia-Highland, Inman Park is another one of the eclectic neighborhoods interspersed throughout the city. It's also about a mile away from Virginia-Highland, so it's easy driving distance and even easier walking distance now that the neighborhoods are connected by the BeltLine. Like the Dogwood festival, but on a smaller scale, the Inman Park Festival has plenty of music, food, and entertainment to take you through the whole weekend.
'Til next month!
Farish Jerman 11C*
Senior Admission Counselor
Emory University
Office of Undergraduate Admission
*Emory uses these abbreviations to designate graduation year. For example, Farish graduated from Emory College of Emory University in 2011.
Don't hesitate to connect with us by posting a comment to this blog, tweeting us @emoryadmission, or emailing us at admission@emory.edu. We look forward to hearing from you!