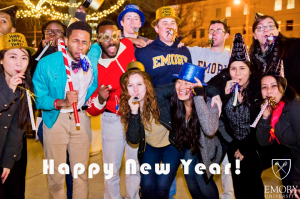 A Happy New Year to all our faithful blog readers! We hope y'all had an enjoyable holiday season and productive first week of 2015. Here in the Office of Admission we dove into the processing and evaluation of applications and answering the bevy of emails we've received – just over 2,000 in the last two weeks sent to admission@emory.edu. While there is a lot of work for our office in the coming three months, it is nothing we haven't anticipated, and sprits continue to be high as we shape the Class of 2019.
We know you are eager to ensure everything is correct with your application, and we need to request your patience. We have had a record number of applicants this year (great news!), but there is a lot that needs to be processed accurately to ensure continued progress.
Here are some important things to help you understand your position:
OPUS is everything. To track the status of your application materials, check your OPUS account regularly. Due to the volume of application records, we are unable to confirm the receipt of application materials through email or over the phone. If you have not set up your OPUS account yet, review our

OPUS Explained blog post

now.
Processing is not automatic. Whether you or your school submitted application materials online through the Common Application, sent them through email to the Admission office, or you have tracked that the mailed documents have been received by our office, it takes time for all these documents to be processed. It can take up to three weeks for documents to be properly processed

, accurately matched with your application, and the items to be removed from your OPUS to do list.

There is a process for completing incomplete files. We will let you know if you are missing anything via email later this month, once our office has caught up on processing materials. Students will then have one week to submit (or resubmit) any missing items. We have an

Application Missing Items webpage

to assist in the proper submission of any application materials that remain listed as "initiated" in a student's to do list.
The bottom line: we encourage you to
Check OPUS

Be patient

Know that we will be in touch later this month if you are missing anything.
If you have further questions, check out our End of the Year FAQs blog post or post a comment to this entry. Thanks for your patience!

**New Year photo credit to Emory University.
Don't hesitate to connect with us by posting a comment to this blog, tweeting us @emoryadmission, or emailing us at admission@emory.edu. We look forward to hearing from you!