If you're thinking about applying to Emory's Oxford College this yea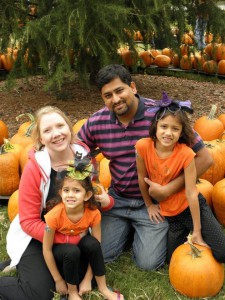 r (or even if college is a little ways off for you), chances are money's (already) on your mind. Your admission advisors know that Emory's price tag can look daunting, and we know it is often one of the first things students and parents think about. But we want to help alleviate that sticker shock. Our university financial aid team is dedicated to making an Emory education possible for students from all economic backgrounds. Many of your admission advisors are Emory alums who benefited from the university's generous scholarship and need-based aid programs, so for us, this is a personal mission.
In order to ensure that we can make Emory affordable for you, we need you to work with us—we need paperwork on time in order to review your file and award you the most monetary aid possible. We know that your aid application can be confusing, so our Associate Dean of Financial Aid, Jenn Patil, is here to demystify the process for you. And you might just learn a little bit about her along the way!
What is your role in the admission office?
My role in the Admission Office is that of partner and liaison with the Financial Aid Office.  It is my job to inform prospective students of the process for applying for aid, review their files, and process an aid award for students.  It is the responsibility of the entire campus to recruit a new freshman class, so I work with the Office of Enrollment Services to meet the college goals while maintaining compliance with regard to Institutional, Federal, and State guidelines when awarding aid.
What is one thing that you wish prospective students and their families knew when applying for aid?
To please read about the aid process online and any communications you get from us via email or through your OPUS Student Center.  Emory's standard form of communication with students is email.  In an effort to be consistent and sustainable, the Office of Financial Aid follows this policy.  It is extremely important to meet all deadlines.  Grant aid is limited, and we can only guarantee to meet 100% of your demonstrated need for students who meet all deadlines.
One piece of advice you'd give those about to start the process?
It will be long and tedious, but the outcome could be great.  For students who have demonstrated need and meet all of the aid deadlines, Emory has a very generous policy of meeting 100% of a student's need.  Make copies of what you send to IDOC and the aid office and keep up with any communications.  Check your OPUS To Do list at least once per week for any new updates.
If you could go back and re-do or change one thing in your own college experience, what would it be?
While I truly appreciate my degree in English from Emory, and know that it has been an asset to my career, I think that if I could go back and change one thing in my college experience, I might have chosen a different major or looked into a pre-professional program.  I sometimes imagine myself in this role or another, and wonder what else I have to offer the world.  I remember taking one course in Arabic studies my senior year and just falling in love with it.  I love to learn and think there are so many subject areas that I would have loved to focus on.  But, you are never too late to learn, so who knows what my future holds!
What is the biggest change you've seen on the Oxford campus since you were a student?
I would say the growth in the student body and the improvement of the facilities.  I think there were approximately 600-700 students total on campus when I attended Oxford, and the year before I came the JRC had just been connected and equipped with AC!  The progress with the facilities on campus is amazing and such a benefit for our students.
What is your favorite thing to do when you're not working?
Definitely watch sports.  I am a HUGE college football and NBA basketball fan.  I have lived in Atlanta all my life and love watching the Hawks, Braves, Falcons, and UGA Bulldogs.  My family means everything to me, so I love spending time with them…preferably while watching sports.  😉
Your husband also works for Oxford, in the Finance Office. Did you meet when you were students? (Note: The biographer thinks that this is a cute story and really just wanted to hear it again.)
I did meet my husband at Oxford!  At least that's the way he tells it…I was a work study student in one of the residence halls on campus.  He says he saw me working one day and checked out a vacuum from me – unfortunately, I don't remember that.  But, his best friend was my friend as well, so I saw him at a party one day while visiting the Atlanta campus.  We started talking, and the rest is history!  Two kids and a dog later, we have been together for over fourteen years!
What else do you think prospective students should know about you or your job?
I would like prospective students to know that I was once in their very shoes.  I fell in love with Oxford and went through the Financial Aid process as well.  It was not always an easy path, but I made it.  I take my job very seriously, and want to be helpful to families applying for aid.  There are times when I cannot give a family what they want, because a very big part of my job is following Federal, State, and Institutional policies, which change frequently.  But, I will always do my best to be empathetic in guiding students to make the best decision they can and to be successful.